The Rotary Tour of the Blackwood 2022 is set for 12 March 2022. It is a timed event over undulating terrain offering three distances: 134km (elevation 1,700m) or 65km (elevation 841m) or 30km.
The accommodation around Bridgetown is going quickly and although registrations are yet to open, if you are interested you will need to book accommodation as soon as possible as most can be cancelled. For more details about the event including accommodation please check out their web site https://www.blackwoodtour.info/.
For more SPR specific queries please email race@southperthrouleurs.com.au. 
Note that this ride is on the same time as the CanTeen ride for which some have already registered.
SPR Annual Christmas Ride – This picture goes back a few years (2014 actually), but can perhaps serve as inspiration for 2021. So get your Christmas best ready for our Christmas ride to be held 18 December.
And don't forget to vote! Each year SPR recognises riders and volunteers for their achievements and contributions to all things cycling. Please give a few minutes to nominate these individuals in a quick survey via this link. There is a prize of nutritional goodies for cyclists for one lucky responder so don't delay.
The awards will be announced and presented at our Annual Christmas Ride to be held on 18 December 2021. Come along for the ride in Christmas dress – there is a prize for the best dressed bike and/or cyclist.
And join us at DOME after the rider for breakfast, coffee and the award presentations.
Any queries, get in touch with Carol at comdev@southperthrouleurs.com.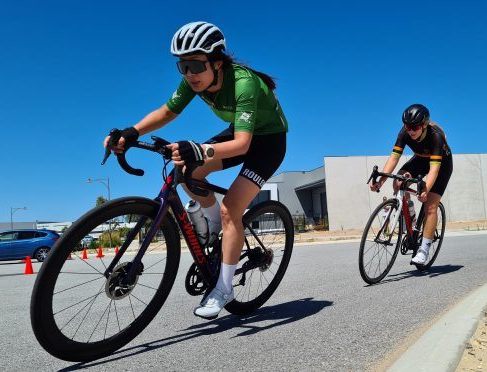 Criterium racing this weekend – If you're interested in racing this weekend, you have options.
1. PDCC Summer Criterium Series #3 (Alumina Road, Rockingham)
2. West Coast Masters DRMC criterium
Keep in mind that entries close Friday evening / Saturday midday respectively.
And don't forget that RCCC's twilight criterium series continues this Tuesday. Details and entry here.
From the Ride Coordinator – For all those who rode during this week we definitely got had some warmish mornings to start with and a continuation of those wicked easterlies from last weekend all through the first part of the week. At least for this weekends ride we will experience a respite to those easterlies in the form of south to south westerlies arriving. That will also cool the temperatures down for the rides so expect numbers to be big for the groups this weekend.
Something to be aware of for both the Friday ride AND our choice of main ride for Saturday is the road works that have commenced as you turn off the Leach Highway onto Webb Street in Rossmoyne. For the last few weeks we have been signaling works are about to commence and at last glance (about 5pm Thursday),  the road is open but they have "skinned" the surface, making it rough as you turn off Leach. Please be aware of this and slow down on the turn. It's expected that the road will be open, it's just a little more dangerous to navigate than normal so please exercise caution on the approach.
One last thing to mention is that it has been reported that there were quite a mechanical issues reported during last weekends main and hills rides.  Whilst many of these are difficult to anticipate (& I'm not talking flat tyres here), it is encouraged in our ride etiquette page (click here to view) that all riders riding SPR rides are aware of the importance of good maintenance for their bikes. This is not just because of the disruption that can occur to the ride if a mechanical is experienced, it is also that sometimes these issues can lead to safety issues and crashes on rides. So please be aware that it is expected that you will have a well maintained bike for riding with SPR.
Saturday 11th December
Sunday 12th December
Monday 13th December
Tuesday 14th December
Wednesday 15th December
Thursday 16th December
Friday 17th December