It seems slightly crazy to me, but Easter is upon us already. Maybe it's just me.
If you have time away with family or friends – enjoy. If not, then perhaps riding some extra kilometres is on your agenda – and well – SPR can help with that. Between our Annual VP's ride, Public Holiday rides plus all the usual suspects, we've got you covered.
Enjoy.
The Tour de Brisbane is on this weekend, and apart from looking like an excellent ride, offers the opportunity of qualifying for the 2022 UCI Gran Fondo World Championships in Trento, Italy this September.
We wish all the best to SPR members Michael Bonner and Adam Ralph, who will be competing.
Check out the website for all the details (including live tracking).
The epic Three, Five and Se˄en is being held on Sunday 15 May in Nannup. The shorter courses, 50km (Three) and 85km (Five) are on the same gravel, clay/mud, quartz grit and mica tracks as SE˄EN and have plenty of room to pass. These distances are still challenging and designed as preparation for taking on the full SE˄EN course in future years.
With a 10 hour cut off time for SE˄EN to cover 125km, finishing is a triumph.
If interested check out accommodation around Nannup before registering for 2022 here (official website here).
If gravel rides sounds like something you would like to get into (for 2023!!), SPR can organise an information session around the end of May; bikes, training and preparation. Contact Carol comdev@southperthrouleurs.com.au if interested.
📸 Photo credits Peter McDonald and official Seven website
9th Annual VP's Ride
Need I say more.
Read all the details here.
Paris-Roubaix at The Local – For the seventh year in a row (minus 2020), Paris-Roubaix will be screened live at The Local Hotel, 282 South Terrace, South Fremantle.
Long time SPR member Adrian Emilsen is invites you to join him for a beer and some banter, to watch the 2022 edition of The Hell of the North live on the big screen in the Garage Bar.
Please note that this event will take place within the current Covid restrictions. Proof of vaccination is required.
Details on Facebook here.
Jim Flynn and the Indian Pacific Wheel Ride 2022 – Three weeks in for Jim on his IndiPac 2022 adventure and lots of kilometres already behind him, although some big climbs ahead.
See below for the progress update as at now and see his latest Facebook post here. Live tracking here.
New Race Day Gear – the SPR Kit Subcommittee and Mayeur are proud to announce the SPR Race Day Hoodie and SPR Race Day Tee for your wearing pleasure.
You know you want one.
Unlike our normal kit orders, these items may be ordered any time and will be delivered direct to your door. Order on the Mayeur SPR shop here.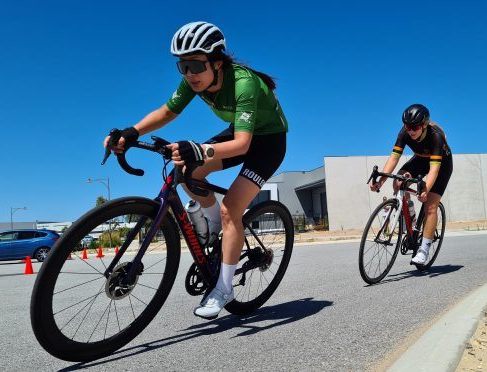 Criterium racing this weekend – If you want to race, or get in on the action watching others race, read on.
1. WCMCC Age Group Championships Wangara
From the Ride Coordinator – So with the amount of road works (planned and not planned) around our fair city, a lot of our ride routes continue to be challenged in regards to disruptions. Whilst Metronet is a great contribution to our public transport system, it is causing disruptions to some of our northern routes around Bayswater station and will soon have an impact on some of our southern routes when Cockburn – Thornlie ramps up work as well. Added to this is the ongoing work to ramp Leach Highway over Welshpool road and regular maintenance required to upkeep roads. So if you haven't seen some of your "favorites" for a while there's a good chance it's been impacted and work arounds will be required.
So the choice of route for this week (hopefully) ducks and weaves and circumvents some of the major routes but does take the busy road down to Freo and back. If you haven't ridden it before, do yourself a favor and check it out before you ride so we can be as safe as we can when we are riding out there.
Enjoy!
Saturday 9th April
Sunday 10th April
Monday 11th April
Tuesday 12th April
Wednesday 13th April
Thursday 14th April
Friday 15th April – Good Friday