Posting a few photos and shoutouts tonight. One of the many things I love about cycling is the choices we have to pick our challenge – whether a tour or a race, whether the course is flat or replete with climbs, whether close or far away – and meet the challenge in good company.
This week just gone we have had SPR members participating in lots of places. Check out photos from the Peaks Challenge and Tour of Blackwood this time, and expect some more from the Life Cycle for CanTeen ride next week.
Tour of Blackwood – First up, the 2022 Edition of the Tour of Blackwood. Just a tidy 130kms if you don't mind. We had 14 SPR riders. It turns out that this year's included some challenges, including heavy rain, lightning and kangaroos (who took down one rider) before hot conditions and strong headwinds made the final 40kms.
I am told it was a great day out (!!) with our riders proving their abilities over a demanding course with over 1,600m of climbing.
Peaks Challenge Falls Creek – Congratulations to Damon, Peter, Jake, Waeel & Diego. For any that are familiar, this is a difficult ride – neatly summarised as
235km | 4000m+ | 13hrs
You get the picture. Kudos.
Check out the highlights video here as well as a few more photos on Facebook.
Jim Flynn and the Indian Pacific Wheel Ride 2022 – I want it offer a huge shoutout to long-time SPR member Jim for his about-to-commence efforts (not that he hasn't been training!) with him embarking on the IndiPac 2022 this weekend. Check out his Facebook post here for a few more photos.
Jim had intended on doing this in 2021 but the universe had other plans, so 2022 is the year. The ride involves some 5,500km from Perth to Sydney.
Wishing you all the best Jim!
Those of you who have been around a while will know that Jim has been a consistent contributor to club and the SPR blog dating back as early as 2011 – check out all his SPR posts here. Jim has promised me a write-up of this epic adventure.
You can follow Jim live online here (look for Jimbo):
https://indianpacificwheelride2022.maprogress.com
And the latest pictures from tonight 💪🏻😎
AGM Nomination Reminder – Don't forget that nominations for the SPR Committee close tomorrow (Friday 18 March).
Read the post here as well as Andrew's post about a few changes up for a vote at the AGM.
Nominations to Sam by email on admin@southperthrouleurs.com.au.
New Race Day Gear – the SPR Kit Subcommittee and Mayeur are proud to announce the SPR Race Day Hoodie and SPR Race Day Tee for your wearing pleasure.
You know you want one.
Unlike our normal kit orders, these items may be ordered any time and will be delivered direct to your door. Order on the Mayeur SPR shop here.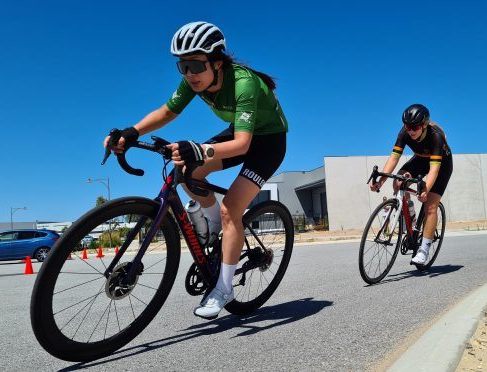 Criterium racing this weekend – If you want to race, or get in on the action watching others race, read on.
1. RCCC CloudConnect Summer Criteriums #4
From the Ride Coordinator – OK OK, before I get bailed up at the coffee shop again after the ride, I promise this weeks ride will be a little more sedate after back to back hills at Mosman and Ewen over the last few weeks. This Saturdays ride "only" has the lumpiness of Stock Rd to navigate before meandering out into some nice roll trhrough territory along South Street, Nicholson and Albany Highway. This ones got "something in it for everyone" and is one of our most popular routes, especially with a South Easterly tail wind to finish with.
Enjoy.
Saturday 19th March
Sunday 20th March
Monday 21st March
Tuesday 22nd March
Wednesday 23rd March
Thursday 24th March
Friday 25th March