Each year SPR recognises riders and volunteers for their achievements and contributions to all things cycling. Please give a few minutes to nominate these individuals in a quick survey via this link. There is a prize of nutritional goodies for cyclists for one lucky responder so don't delay.
The awards will be announced and presented at our Annual Christmas Ride to be held on 18 December 2021. Come along for the ride in Christmas dress – there is a prize for the best dressed bike and/or cyclist.
And join us at DOME after the rider for breakfast, coffee and the award presentations.
Any queries, get in touch with Carol at comdev@southperthrouleurs.com.
SPR Christmas Party – OK, so no need to sell more tickets but we do still have a few available.
Here comes Christmas 🙂
Tickets and all the details here.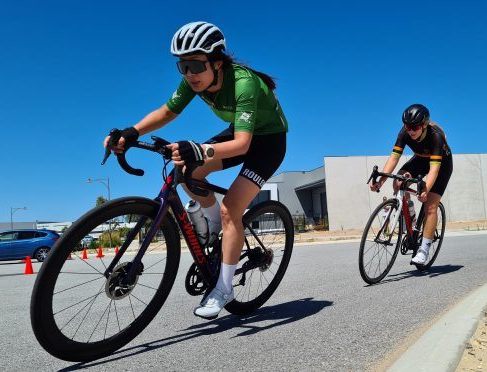 Criterium racing this weekend – If you're interested in racing this weekend, you have options.
Keep in mind that entries close Saturday midday.
And don't forget that RCCC's twilight crib series starts this Tuesday. Details and entry here.
From the Ride Coordinator – Has anyone noticed just how many different road works that are being undertaken right now! It appears you can't drive or ride more than a few kilometers in the metro area without coming across either witch hats, temporary barriers or a lollipop person. The last few weeks we have seen the most iconic of our rides, the River loop, being disrupted with off again, on again road resurfacing along Mounts Bay road and the finishing road for most of our Hills rides – Welshpool Rd and the corner of Leach being diverted last weekend.
The reason for raising this again this week is to highlight two things, be prepared for the unexpected interruption on our ride routes and be careful of hazards that may be there one week and gone again the next.
The chosen ride route this week is a good case in point. The last time we ventured past Bannister Rd on South St/Ranford road is likely to look very different to this time as the road works now take us on a slightly different path just past the set of lights. Similarly we venture through the intersection at Welshpool and Leach which, whilst expected to be open when we go through, may have some added twists and turns to navigate through and may be different to when you last rode it. Perhaps some are thinking – well choose another route to take but in all honesty, there's not many left we can take where some part of it isn't affected by road works. Moral of the story is be vigilant, expect the unexpected and if you are at the front, call the necessary changes/hazards early so the group can navigate safely.
I'll finish with a couple of updates on previous posts made. The first one relates to some more works expected on our Friday ride at Webb St as we turn off the Leach Hwy. Webb street remains open at this point for tomorrow's ride and we are seeking more information on potential closures from the council. So all good for our ride tomorrow.
Finally just another reminder on the back of last weeks post that ALL Sunday rides will revert to the 6am start time from THIS weekend – including the coffee ride.
Saturday 4th December
Ride starts under the Narrows (cityside) at 5:30am
Hills ride starts at Coode st carpark at 6:30am

Short Hills – <not this week>

All rides start at Coode St carpark at 7:00am
Sunday 5th December
Rides start at Coode St carpark at 6:00am

Short – khna weir 72.23km spr sunday

Rides start at Coode st carpark at 6:00am *** NOTE CHANGE ***
Ride start at car park opposite the Darlington Post Office at 7:30am

[NEW] Gravel – <not this week>
Monday 6th December
Ride starts under the Narrows (Sth Perth side) at 5:30am
Tuesday 7th December
Ride starts under the Narrows (cityside) at 5:30am
Ride starts Frasers ave at 5:45am

Development group – interval training kings park
Wednesday 8th December
Ride starts Raffles bike path at 5:30am
Rides start at Coode St carpark at 10:00am

Mid-week – <not this week>
Thursday 9th December
Ride starts under the Narrows (cityside) at 5:30am
Ride starts Frasers ave at 5:45am

Development group – interval training kings park
Friday 10th December
Ride starts under the Narrows (Sth Perth side) at 5:30am