As I went looking for the photo above to remind you all about our SPR Chicks Monthly Coffee Ride coming up again Friday week, I decided to see how far back the "SPR chicks" name goes.
It turns out, it goes back a reasonable way – this second photo dates back to 2013. And whilst we have lots more women riding with us today, all of these faces will be familiar to many of you – even if we have lost some to the eastern states 🙁
All the details:
SPR Chicks Monthly Coffee Ride
Friday 28 January, 6 – 7am
Meet under Narrows (cityside)
This is an easy conversational paced ride (approx 25 km/hr on flat) with new/beginner riders & all types of bikes welcome. The ride finishes with coffee at Botanicals Cafe in Kings Park for 7am.
Facebook event here.
Quick reminder regarding lights. The days are getting shorter again – keep this in mind as you head out to our EBRs.
Free Track Sessions – We may need to defer to the experts on whether sessions at the track count towards your Festive 500, but other than that, if you (or your children) have ever thought about giving track cycling a try, then this is for you.
Midland Cycle Club is offering both Junior and Senior cyclists Three (3) Free Sessions at the Track with a fitted Track Bike. In particular, this is a good opportunity for Dad's / Mum's in our sport to encourage their kids to come and try cycling in a safe and controlled environment, namely being the Velodrome.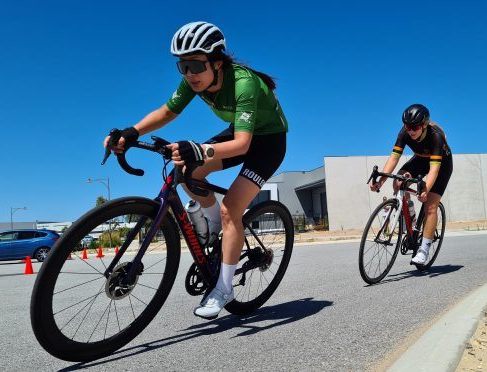 Criterium racing this weekend – If you want to race, or get in on the action watching others race, read on.
1. RCCC Australia Day Criterium
2. SheRace WA Come & Try Criterium Session (part of Australia Day crit)
From the Ride Coordinator – OK, I think I spoke too soon last week when I was "waxing lyrical" about the perfect weather we were expecting (& gratefully received) for the weekend riding. I hinted that those that like it hot need not worry because the forecast was for a few days in the middle of the week that were hot. What I didn't anticipate though was for yet another recording breaking heatwave to hit so quickly after our recent Christmas baking! And I'm sorry to say – it's definitely here for this weekend.
It would be stating the absolute obvious to say that if you are intending to ride this weekend please please please make sure you look after your hydration needs. To this end, everyone is a little different but in high 30s temperatures (which it's likely to be during our rides because of the high overnight temps ) you're going to need to plan for a little extra. Maybe this weekend it's time for the frozen water bottles and/or the hydralyte supplements to get you through. Maybe it's the extra large water bottles x 2. Whatever it is that helps you get through the heat, please give it some thought before you ride this weekend.
Speaking of hot – I think I've mentioned over the last few weeks that a club expectation around respecting each other is a key element of the ride etiquette that we expect all riders to abide, regardless of who you are. So the hot weather can more easily bring out tensions/frustrations when riding as we get more tired and irritable (especially if you're struggling to sleep in between). We would just ask every rider to be aware of this ongoing but especially over this weekend when riding on our rides. We all have different motivations for riding and sometimes mistakes can be made but please make sure we treat each other with the respect we all deserve. Keeping cool and keeping your cool go hand and hand this week. Enjoy!
Saturday 22nd January
Ride starts under the Narrows (cityside) at 5:30am
Hills ride starts at Coode st carpark at 6:30am

Short Hills – <not this week>

All rides start at Coode St carpark at 7:00am
Sunday 23rd January
Rides start at Coode St carpark at 6:00am
Rides start at Coode st carpark at 6:00am
Ride start at car park opposite the Darlington Post Office at 7:30am

[NEW] Gravel – <not this week>
Monday 24th January
Ride starts under the Narrows (Sth Perth side) at 5:30am
Tuesday 25th January
Ride starts under the Narrows (cityside) at 5:30am
Ride starts Frasers ave at 5:45am

Development group – interval training kings park
Wednesday 26th January – Australia Day Public Holiday
Ride starts Raffles bike path at 5:30am
All rides start at Coode St carpark at 7:00am
Thursday 27th January
Ride starts under the Narrows (cityside) at 5:30am
Ride starts Frasers ave at 5:45am

Development group – interval training kings park
Friday 28th January
Ride starts under the Narrows (Sth Perth side) at 5:30am