This week a shout-out to women's racing in Perth. We had a most excellent turn-out at the Tour of Margaret River, with opportunities at all levels for racing.
And now in January, we have some more excellent opportunities.
First up, 4F is running a Summer Criterium series – starting this Saturday – and running over three Saturdays (15/Jan, 29Jan and 12/Feb).
Then RCCC is running a SheRace WA Come & Try criterium session as part of the Australia Day criterium on 26 January.
SPR has three teams entered in the 4F series, so head out to Midvale SpeedDome to this Saturday afternoon from 4:30pm (first crit at 6pm).
And don't forget our SPR Chicks Monthly Coffee Ride coming up next on Friday 28 January.
Free Track Sessions – We may need to defer to the experts on whether sessions at the track count towards your Festive 500, but other than that, if you (or your children) have ever thought about giving track cycling a try, then this is for you.
Midland Cycle Club is offering both Junior and Senior cyclists Three (3) Free Sessions at the Track with a fitted Track Bike. In particular, this is a good opportunity for Dad's / Mum's in our sport to encourage their kids to come and try cycling in a safe and controlled environment, namely being the Velodrome.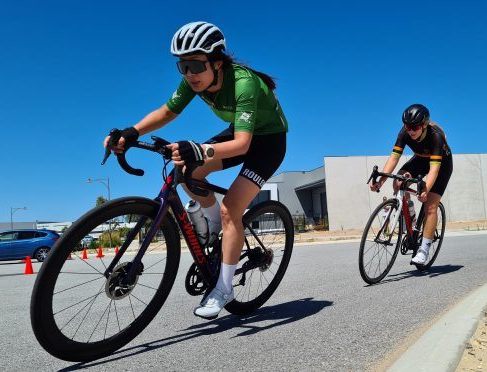 Criterium racing this weekend – If you want to race, or get in on the action watching others race, read on.
1. 4F Sanctuary Summer Series #1
2. PDCC Summer Criterium Series 2021-22 #5
From the Ride Coordinator – Well what a summer we have had so far. Took a little while to kick into gear but we reached overdrive over Christmas and New Year, just in time for those pushing through for the Festive 500.
For those that like your riding temperature hot, you won't have to wait very long before our next wave of heat kicks in but for those that like it "just right" or perhaps a little cooler then this weekend is the one for you. With the forecast for Saturday in the high 20's and Sunday in the low 30s we are expecting some strong numbers again this weekend. 
With numbers expected to be big this weekend, you can do your best to prepare yourself for the ride. Everything that the club expects from those that ride with us is detailed here, in the ride etiquette page. Apart from the obvious things like keeping your bike in good order and obeying the road rules, bringing a positive attitude really contributes to the group as well as a sense of fun. I know there are some serious riders with some serious goals but our rides are not races and the person next to you can really help you out so perhaps consider them part of your team for the time you are out there as opposed to someone I can smash during the ride.  The importance of listening to your ride leader was the theme of last weeks post, this one's about what all riders can bring to ensure the safety and enjoyment of the rides and we all have a part to play in that.
Saturday 15th January
Sunday 16th January
Monday 17th January
Tuesday 18th January
Wednesday 19th January
Thursday 20th January
Friday 21st January