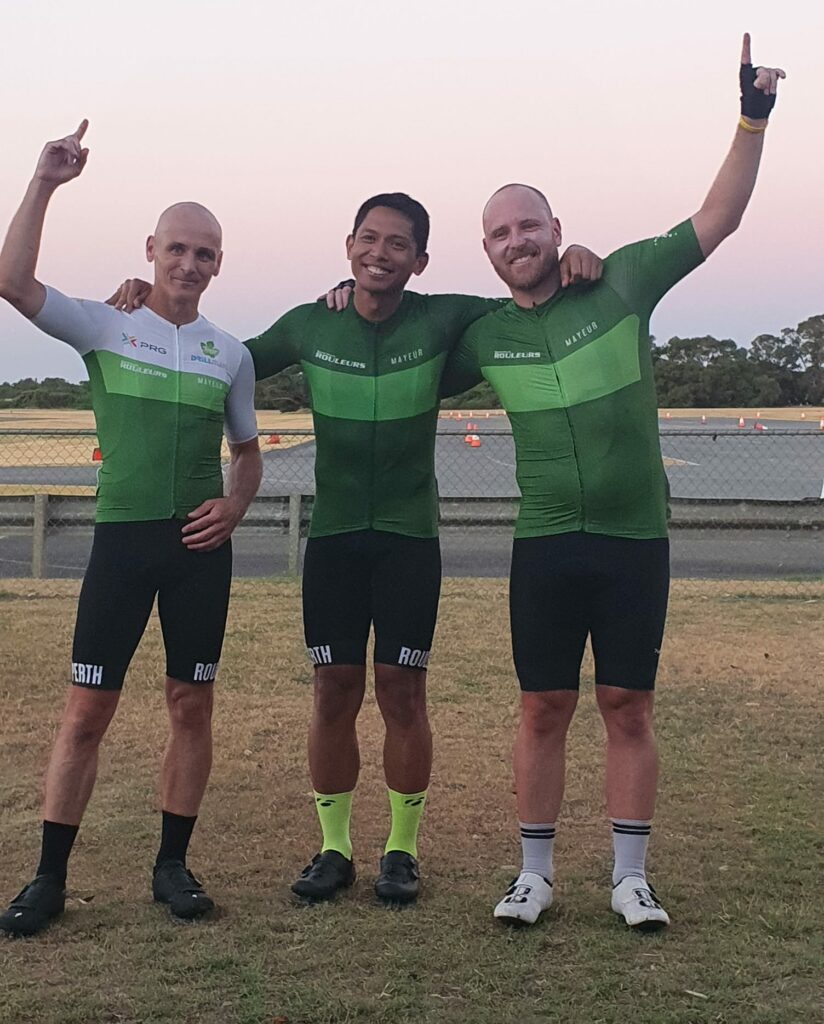 It has been most excellent to see lots of green at the crits recently. Even better that I know many of the faces are new to racing and/or criterium racing.
Not to mention that the C Grade podium at the most recent RCCC Twilight Criteriums (#5) was all green. Well done to Daryl Puyales (1st), Mike Harper (2nd) and Shae Watmore (3rd).
Nicely done.
Festive 500 – Now I can't be sure (not every SPR member is a member of the the SPR Strava club) but I am pretty certain line honours go to Marcus Van Dalen on 1,007km, followed by Stefanie Van Amerongen on 803.6km, elPrez on 701.3km and Jake Harper 700.0km.
And again, I can't be certain but it looks like around 60 SPR members got over the line with 500+kms.
Well done. Seriously festive.
[Update #1]: I did say it was difficult. Go on Marcus, join the SPR Strava club 🙂 Line honours updated to reflect the Festive 1,000 result from Marcus Van Dalen. I did say we had some seriously festive km going on. I remember talking to Marcus at Christmas – it seems he kept to the plan!
Free Track Sessions – We may need to defer to the experts on whether sessions at the track count towards your Festive 500, but other than that, if you (or your children) have ever thought about giving track cycling a try, then this is for you.
Midland Cycle Club is offering both Junior and Senior cyclists Three (3) Free Sessions at the Track with a fitted Track Bike. In particular, this is a good opportunity for Dad's / Mum's in our sport to encourage their kids to come and try cycling in a safe and controlled environment, namely being the Velodrome.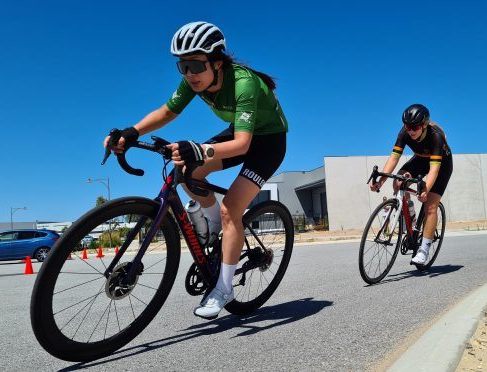 Criterium racing this weekend – There are some good options, with racing this weekend and the twilight crit series continuing.
1. WCMCC Criterium (Motorplex)
2. RCCC Twilight Criteriums # (Perth Airport)
For women racers, entries have closed for the 4Five+ Sanctuary Summer Series being held 15/Jan, 29Jan and 12/Feb (with more details here). SPR has a number of teams entered. Enjoy!
From the Ride Coordinator – 2022 got off to a flying start last weekend as the groups searched high and low for those elusive TV Stations ( I swear I saw them once many years ago 😁) Numbers were really good considering it was the 1st January.
We are back to full swing this weekend and expect group numbers to increase again with those coming back from their holidays and perhaps those that have a cycling goal as part of their New Years resolution. It's important for all of us to reflect and recognise that we have a "broad church" across our membership base and everyone has different motivations for riding. Some of us ride for the social aspect, some of us to push harder for a new goal, for many of us it's part of heathy lifestyle choices. But whatever motivation that you have for riding with SPR, please be aware that one of our core values as a club is to get you back back to the coffee shop/or your home in one piece. To this end, we have something unique relating to organizational safety that is the envy of other cycling clubs and one which many have tried to emulate – our troup of wonderful, dedicated and often passionate ride leaders who in many cases sacrifice their own goals and ride preference to focus on safety whilst we are all out there enjoying ourselves. In the coming weeks we will be calling for any members who may want to assist along the way, but we thought it would be a good start to the year to acknowledge just what they do week in and week out as volunteers. So perhaps this weekend, if you enjoy your ride – give them some acknowledgment. You may want to shout them a coffee if you loved the ride. But for many, it's just simple thanks that keeps them fronting up again and again throughout the year. So if you think about it – just let them know that you appreciate what they do because without them our clubs values of organised, safe, social and inclusive would be just that more difficult to achieve.
Saturday 8th January
Sunday 9th January
Monday 10th January
Tuesday 11th January
Wednesday 12th January
Thursday 13th January
Friday 14th January