So here is hoping that you all have had a wonderful Christmas week, with friends and family, not to mention downtime and riding (sometimes but not always one and the same thing), and perhaps even a cycling gift or three. Perhaps use the downtime to ponder the n+1 rule 🙂
The photo above was taken from the Bonner's Christmas Special, which has become a very popular way to start Christmas Day, with 100-ish riders joining us for a very casual loop out to Cottesloe and back.
Thank you to all who have been part of SPR for 2021. I for one am enjoying some leave and downtime. It has truly been an interesting year, with WA in the main shielded from the impacts of COVID-19 and the lockdowns that have been very much a part of life in other parts of Australia. For each of you, I trust that the end of 2021 and the beginning of 2022 is a restful time, with time to relax, and space to reflect on the many good things life in our city has for each of us. Cycling may only be part of life, but certainly for me it is a hugely significant part – everything from time spent with friends, time away from the stuff that often crowds my life, time to stretch myself racing, and not to mention the opportunity to maintain my health & fitness. I know for many of you it is the same.
Enjoy your New Year. Feel free to join us for our New Years Day rides (normal Saturday – Dome is open).
Then join us again for the Public Holiday rides on Monday.
Dome is open Saturday – Just a reminder that Dome will be open Saturday (New Years Day) after the ride. No surcharge.
I can't promise Toby will be there so this picture may have to suffice. But the coffee will be fresh and the breakfast menu ready and willing to be of service.
See you there.
Festive 500 – Personally, I started well and then an old back injury flared up putting my Christmas riding on hold 🙁
It seems many at SPR have not been similarly afflicted, and have put in some serious kms.
One day to go, and we have some 34 SPR members who has clocked the 500 already, with Mr Vice President, in at number 35 and saving himself 8km for the final day.
First place so far goes to Jake Harper on 639.9 km. Keep in mind though, late minutes changes are not unusual. You have to ride the kms by the end of tomorrow (New Years Eve) but you have some space to upload to Strava after the end – it has been known for riders to delay uploading that last ride to avoid late minute challengers heading out for an extra ride. You have been warned 🙂
Masks Again – Unfortunately, COVID is still with us, and as most of you will have seen, we need to bring out our masks again for coffee after the ride.
It should only be for a couple of days, but don't forget 🙂
Free Track Sessions – We may need to defer to the experts on whether sessions at the track count towards your Festive 500, but other than that, if you (or your children) have ever thought about giving track cycling a try, then this is for you.
Midland Cycle Club is offering both Junior and Senior cyclists Three (3) Free Sessions at the Track with a fitted Track Bike. In particular, this is a good opportunity for Dad's / Mum's in our sport to encourage their kids to come and try cycling in a safe and controlled environment, namely being the Velodrome.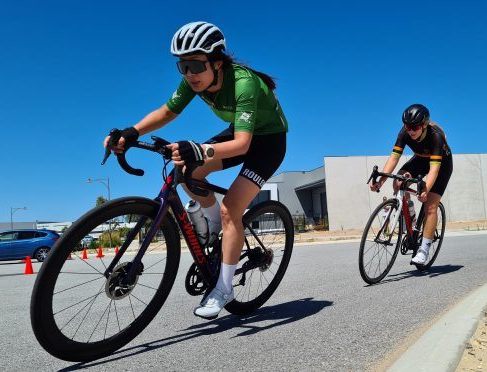 Criterium racing this weekend – There are some good options, with racing this weekend and the twilight crit series continuing.
1. PDCC Summer Criterium Series #4 (Garden Island)
2. RCCC Twilight Criteriums #5 (Perth Airport)
For women racers, entries are open for the 4Five+ Sanctuary Summer Series being held 15/Jan, 29Jan and 12/Feb (with more details here).
From the Ride Coordinator – At this time of year, I'm always reminded of the words from that famous Lennon song "…another year over and a new one just begun…" and for our SPR main rides you can't get any earlier than the 1st of January. As the 1st this year falls on news years day, we thought we would run our normal ride programme for this week. We are a little uncertain as to how many riders will turn up so we have scaled back the number of ride lead groups accordingly but we still think that we will have enough on the day for those eager to work off the Christmas pudding or have eaten too many ham/turkey/chicken sandwiches over the last week. So for those that are not planning a big night the night before and/or who are not somewhere else in the state, come join us for what is usually the most quiet traffic conditions that you will experience on one of our rides throughout the whole of the year.
Saturday 1st January
Sunday 2nd January
Monday 3rd January – "New Years Day" Public Holiday
Tuesday 4th January
Wednesday 5th January
Thursday 6th January
Friday 7th January