The SPR Annual Christmas Ride was last Saturday, and we have the photos to prove it (check them all out here).
Thank you to all who either dressed up, or cheered on those who did. It was a most excellent ride. I maintain that my performance was significantly impacted by the tinsel drag factor. It's my story and I'm sticking with it.
We followed the ride with the announcement of our annual awards for 2021. It was quite a buzz to recognise everything from Most Inspirational Rider through to a truly Epic Moment. And the rest. Join me in celebrating our winners below.
"People's Choice" via the Club Survey
Committee Awards
(**) Both racers were away, so no photos 🙁
Best Dressed Awards

Finally, congratulations to our award survey lucky draw winner, Maurice Hermann!
(**) Sorry… I failed to get a photo of the winning bike!!!
Masks Again – Unfortunately, COVID is still with us, and as most of you will have seen, we need to bring out our masks again for coffee after the ride.
It should only be for a couple of days, but don't forget 🙂
Public Holiday Warning – With Christmas Day, Boxing Day and New Years Day falling this year on weekends there will be a fews things to take note of in this and next week's ride routes, both for our rides and for Dome's opening hours across the break.
Rides – all the details below, but we have a new Public Holiday ride route to try for our Tuesday ride. See you there!
Coffee – Dome will be closed 25, 26 and 27 December public holidays but OPEN on Tuesday 28th and OPEN News Years Day.
Free Track Sessions – We may need to defer to the experts on whether sessions at the track count towards your Festive 500, but other than that, if you (or your children) have ever thought about giving track cycling a try, then this is for you.
Midland Cycle Club is offering both Junior and Senior cyclists Three (3) Free Sessions at the Track with a fitted Track Bike. In particular, this is a good opportunity for Dad's / Mum's in our sport to encourage their kids to come and try cycling in a safe and controlled environment, namely being the Velodrome.
If you are interested or have questions, please email president@midlandcycleclub.com.au.
Festive 500 – Don't forget the the Rapha Festive 500 starts tomorrow.
Eight days. 500km. 24th – 31st December.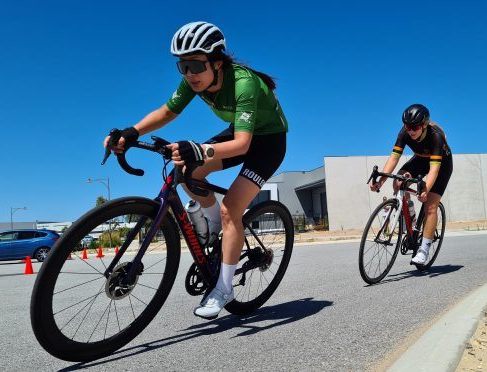 Criterium racing this weekend – It's Christmas in case you had not noticed, so not much going on in terms of racing this weekend, but there is a twilight crit next week.
1. RCCC Twilight Criteriums #4 (Perth Airport)
For women racers, entries are open for the 4Five+ Sanctuary Summer Series being held 15/Jan, 29Jan and 12/Feb (with more details here).
From the Ride Coordinator – They say a week is a long time in politics, so to it is for a cycling club trying to navigate through a very hot festive season with the threat of a looming Covid outbreak.
Firstly let's tackle the extreme heat conditions that are forecast for the next few days. On Christmas Day, the Bonners Christmas Day ride will now commence at 6am to assist in mitigating the heat later in the morning.  Sunday Hills rides (on Boxing Day) will depart as normal at their 6am Summer time schedule.
With the heat also forecast to be around for both public holiday rides on Monday and Tuesday, we did deliberate with changing, but ultimately decided to keep these unchanged at 7am to allow the EBR to remain at a respectable 5:30am.
But please be aware that we have some ***hot*** temperatures forecast. Do consider adequate hydration (before, during and after the rides) and well as protection from the sun.
Finally, we will be introducing a new "PH ride – North" route that is scheduled up for Tuesday morning. So if you are planning on riding Tuesday, please familiarize yourself with the route and don't rely on others to tell you where to go on the day.
Saturday 25th December
Sunday 26th December
Monday 27th December – "Christmas Day" Public Holiday
Tuesday 28th December – "Boxing Day" Public Holiday
Wednesday 29th December
Thursday 30th December
Friday 31st December