The SPR Annual Christmas Ride is this Saturday. The votes are in, and we look forward to sharing the winners with you all. Join us at DOME after the ride for breakfast, coffee and the award presentations.
Don't forget to come along for the ride in Christmas dress – there is a prize for the best dressed bike and/or cyclist. The picture above goes back a few years (2014 actually), but can perhaps serve as inspiration for 2021. Get your Christmas best ready for our Christmas ride Saturday.
*** Important *** Please see the ride routes section below as we juggle rides and routes for special events like this one to see everyone arrive back at close to the same time so no one misses out on the proceedings.
See you there.
Public Holiday Early Warning – With Christmas Day, Boxing Day and New Years Day falling this year on weekends there will be a fews things to take note of in next weeks ride routes, both for our rides and for Dome's opening hours across the break.
Rides – all the details next week, but we will see the return of the Bonner's Christmas Day ride, as well as the release of an all new Public Holiday ride given that we will have two Public Holidays in a row on 27 and 28 December.
Coffee – Dome will be closed 25, 26 and 27 December public holidays but OPEN on Tuesday 28th and OPEN News Years Day.
More details next week.
The Rotary Tour of the Blackwood 2022 is set for 12 March 2022. It is a timed event over undulating terrain offering three distances: 134km (elevation 1,700m) or 65km (elevation 841m) or 30km.
The accommodation around Bridgetown is going quickly and although registrations are yet to open, if you are interested you will need to book accommodation as soon as possible as most can be cancelled. For more details about the event including accommodation please check out their web site https://www.blackwoodtour.info/.
For more SPR specific queries please email race@southperthrouleurs.com.au.
Note that this ride is on the same time as the CanTeen ride for which some have already registered.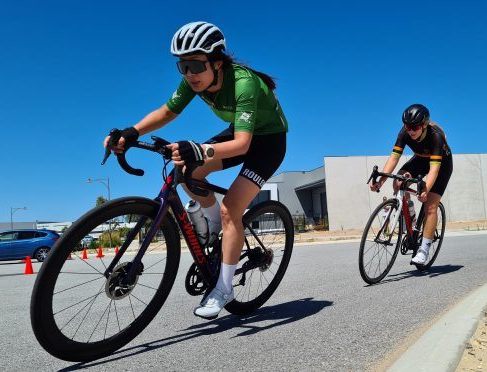 Criterium racing this weekend – If you're interested in racing this weekend, you have options.
1. RCCC Summer Criteriums #3 (Perth Airport)
2. West Coast Masters Wangara criterium
Keep in mind that entries close Saturday midday.
And don't forget that RCCC's twilight criterium series continues this Tuesday. Details and entry here.
For women racers, entries are open for the 4Five+ Sanctuary Summer Series being held 15/Jan, 29Jan and 12/Feb (with more details here).
From the Ride Coordinator – So before we get into the detail this week, just a big Merry Christmas and a Happy New Year to all our regular riders/members. This weekend will be our last main Saturday ride for the year with the following Saturday being Christmas Day. Whilst the Bonners will be once again hosting a morning ride, there won't be an organised main ride scheduled for that day for obvious reasons. However we will be back for an organised main ride on New Years Day, but more on that next week.
So all of that means that this weekend is our official Christmas ride. We will be running this a little different this weekend but similar to the last few years. In an attempt to get everyone away fast and efficiently so you can enjoy the festivities and presentations back at Dome, we will be once again scheduling 2 different ride routes. We will be having the Fast, F2 and M1 ride groups heading towards Freo and back through Canning Vale, whilst our M2,3,4 and transition riders will be heading out to Abernethy Rd. We will also be alternating departure from the Coode Street carpark as follows:
Grp 1, Fast – freo & canning vale 52.11km spr saturday
Grp2, Fast 2 – as above
Grp 3, M1.1 – as above
Grp 4, M2.1 – abernethy rd 48.21km spr saturday
Grp 5, M1.2 – freo & canning vale 52.11km spr saturday
Grp 6, M2.2 – abernethy rd 48.21km spr saturday
Grp 7, M1.3 – freo & canning vale 52.11km spr saturday
Grp 8, M3 – abernethy rd 48.21km spr saturday
Grp 9, M1.4 – freo & canning vale 52.11km spr saturday (note this becomes a no drop ride)
Grp 10, M4 – abernethy rd 48.21km spr saturday
Grp 11, Transition – trans abernethy 39.96km spr saturday
Grp 12, Development – novice shelley 36.06km spr saturday
Sequencing like this means that groups don't have to wait 1-2 mins to leave (apart from Fast2 and M1.1 and Transition) as they can queue up immediately behind the group in front as it will be going in a different direction at Mill Point Rd lights. Again the idea is to get everyone back to the coffee shop to celebrate Christmas with each other.
At the end of the ride, we are also going to ask ALL groups to proceed all the way down Riverside Drive and up Barrack Street. We are aware of the preference for M2,3,4 and transition to turn up Victoria Avenue but on Saturday you may find some of those groups with a faster group behind them on the sprint so the last thing we need is riders pulling across a lane in front of each other and causing mayhem, so for this week we ask all groups to keep going until the end.
Saturday 18th December
Sunday 19th December
Monday 20th December
Tuesday 21st December
Wednesday 22nd December
Thursday 23rd December
Friday 24th December