SPR members aplenty amongst the 150 + riders at the WA Cyclocross (Western Australia) (CX/ 'cross) season opener – O'Day "Party in the Park" Sunday at Perry Lakes. For those who don't know, WACX started in 2012 and is run by Stu and Lou Carson, well known to our SPR Family over the decade. 'Cross is a form of bike racing (well, we prefer "cycling way of life") held during autumn / winter over a 2km odd "cross country" style course with obstacles, raced in all weather conditions, a real lung burner for around 45 / 50 minutes, completing as many laps as possible. It began in France in the early 1900s and continues to be one of the most exciting and popular forms of bike racing in Europe and America.
New SPR CX riders were ripping around the grassy & sandy course like they'd raced 'cross for years (looking at Mark & Dan from Dome). We had the young Emilsen boys, Felix and Morris in on the action too with nearly 40 kids racing! The big kids raced in three categories, keeping in the US O'Day theme there were Freshers (20mins), Sophomores (30mins) and Seniors (45mins) and congratulations to Anny Kidd, Dan Mijat and Mandy McEvoy making their race's podiums. Anny for the Sophomore's win on her second only race, Dan 2nd in Sophomores and Mandy 3rd in Freshers on their first CX races. Mark Claydon was just off the podium, 4th in Sophomores. Toby Brown was in fine form donning his new T-Rex costume, thanks to his son's birthday party the day before and suitably (pun intended) carrying out some terrific "hand ups". Heinrich Strobel dutifully relieved his Dome DS and performed beautifully!
Next up is the first of "Numbat Cup" Series at Gloucester Park under lights Saturday 9 April and we encourage anyone curious about Cross or just looking for a fun night out to join us (and find out what "hand ups" are all about). All details on WA Cyclocross Facebook Group.
📸 Photo credits to Mark Uzii and Aloysius Parker
The Kalgoorlie Classic to Leonora is on the long week end in June, a two-day handicap race for grades A to D, 132km and 100km flat but furious, how can you resist. In 2022 you need an annual race all disciplines licence to enter but for those interested in participating there is a 132km community challenge on the first day which leaves before the main race – lifestyle membership.
Depending on how you would like to transfer, this can be a compressed fly in Saturday out Sunday package for $300 (all transfers in the goldfields included) + $100 tent one night Menzies + registration.
For the more leisurely version take the train up Friday back Monday, Perth-Kalgoorlie return $187 full fare; 50% off for seniors card holder, 7 hours one way, two departures each day. Also budget for $200/night for accommodation in Kalgoorlie Friday and Sunday ($100 per person if sharing) + $100 tent Saturday night. There may be the option to arrange a bus back to Kalgoorlie Saturday if the tent does not sound attractive or you are participating in the community challenge – please discuss soon with Carol if interested comdev@southperthrouleurs.com.au or with Steve race@southperthrouleurs.com.au if racing.
Registrations (early bird until 17 April): race $150, community $30 and both include return bike transfer Perth to the event. Race registration also includes dinner Saturday night in Menzies and a bus transfer back to Kalgoorlie for those not flying.
Don't wait to book if you are interested as flights and accommodation are limited https://www.cyclassic.com.au/
Jim Flynn and the Indian Pacific Wheel Ride 2022 – Two weeks in for Jim on his IndiPac 2022 adventure and lots of kilometres already behind him.
See below for the progress update as at now and see his latest Facebook post here. Live tracking here.
The AGM Happened – Thank you all for participating in the SPR Annual General Meeting. Ironically, we have moved much of our AGM online due to COVID, but the benefit more broadly was that the AGM could go ahead even if the wet weather meant that our Saturday rides were decimated.
Thank you to everyone who voted (online)!
And thanks to the four or five (I think!) people in addition to Committee members who made it in person 😱
New Race Day Gear – the SPR Kit Subcommittee and Mayeur are proud to announce the SPR Race Day Hoodie and SPR Race Day Tee for your wearing pleasure.
You know you want one.
Unlike our normal kit orders, these items may be ordered any time and will be delivered direct to your door. Order on the Mayeur SPR shop here.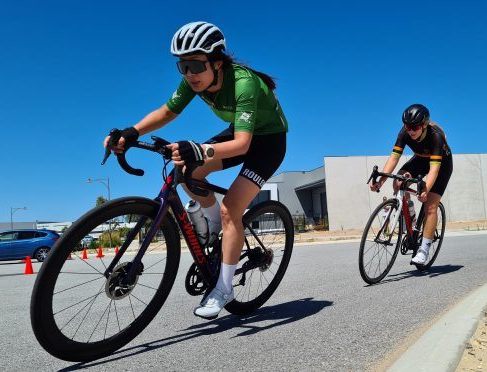 Criterium racing this weekend – If you want to race, or get in on the action watching others race, read on.
1. PDCC Summer Criterium Series 2021-22 Club Champs
From the Ride Coordinator – So you've heard us say on more than one occasion that the expectation of riding our rides is to make sure you are familiar with the ride route before you ride. Despite this, the ride route of choice this weekend is probably the route that has been ridden the wrong way around the most! Yes folks it's Ridgehill road! What apparently makes it a little confusing is that it traverses the Roe Hwy on the same bridge going out as well as coming back. So this time we decided to give its own focus on the blog so everyone gets it right. So going out over the Roe Hwy for the first time you continue straight ahead on Helena Valley Rd and approach Ridgehill from the Helena Valley side. We then do a big clockwise loop coming back down Midland Rd and left over the Roe Highway bridge onto Bushmead Road again. If you are approaching Ridgehill from the Maida Vale side, then we suggest you wave to all the groups going the other way and keep a good sense of humour as you would have gone the wrong way. It will be OK, you'll get back to the coffee shop having done the same amount of Ks but be prepared for the jokes from the others as you won't be able to easily hide the error over a coffee.
Couple of other things to note this week. Last week we signalled that from this Sunday, all of the Sunday Hills rides will move to a 7am start time. So that means that both the short hills versions, the long hills and the coffee ride will all commence at the Coode Street carpark at 7am.
Also last week, we signalled that there will be road works on Welshpool road as they look to install bridge girders at the Leach Hwy intersection and Welshpool Road will be closed all weekend. In order to avoid this area completely, we are suggesting that all groups stay on Oates Street after turning off Albany Hwy all the way to the right turn at Orrong Road. Whilst Orrong Road can be a busy road, we think this is the most straightforward way to head out as well as return and avoid the Welshpool Rd/Leach Hwy intersection for this weekend.
Saturday 2nd April
Sunday 3rd April
Monday 4th April
Tuesday 5th April
Wednesday 6th April
Thursday 7th April
Friday 8th April