We've seen some amazing photos from Katie & Daniel Sargent on our Facebook Group lately so we reached out to them to tell us more …
"We are on our honeymoon at the moment (married in April this year) and had this trip booked for 2 years, constantly rescheduling due to Covid! After mum did a Cycling Retreats holiday here in Spain near Alicante back in 2019, we arranged to do it as a family (mum, dad, my brother and his fiance, and Daniel my husband).
We've done 7 days with 1 rest day in the middle (the hosts arranged for a yoga session and massages at the villa we are staying at for the rest day). Each day you choose between a chilling ride (approx 60 to 80km with 600 to 1200m climbing) or challenging (approx 80 to 120km and climbing 1200-2500m). Daniel did a mix of challenging and chilling, whereas I did chilling – that was hard enough for me!
The villa has just won rural retreat of the year in Valencia and its amazing! Theres about 14 people in each retreat and we have the whole hotel to ourselves and everything is included; breakfast (croissants, porridge, fruit, cheeses, cured meats etc), dinner, unlimited beer and wine, sports drink powders, lollies & dried fruit for your ride. You can bring your own bike or use the bikes the retreat arranged, I'm on a Bianchi this week which has been nice, all the bikes are pretty high end. We've had a fantastic time and met a lot of great people from all over Europe. "
Thanks for sharing your journey Katie and representing SPR. If any other Members have biking travel adventures to share, please get in touch to be featured.
Peel Womens and Junior Tour — Calling our SPR Chicks and Juniors, have you seen this exciting upcoming Event from Peel District Cycling Club?
*** Final chance – entries close Saturday midday, racing Sunday. The weather looks perfect 😎 ***
Aimed at novice/intermediate racers this is a 3 discipline Event — with an ITT, Criterium and Road Race down at the Kwinana Motorplex Sunday 29 May.
Entry is $35 (with $5 transponder hire) with Grades from A – D. An AusCycling "Race – All Disciplines" license is required but 4-week free trial licenses are accepted.
Interested? Entry via the Facebook event or direct via Entryboss https://entryboss.cc/races/11021.
SPR Kit Order — The kit shop is open for our next order! The order closes on 6 June with expected delivery late July. Sample kit for sizing is available at R&D Speedshop in Claremont (thank you!). You have the option of pickup from R&D Speedshop or posted directly to you.
All the details about club kit here with ordering direct from Mayeur's SPR shop.
SPR Race Day Hoodie — With the weather getting colder, replace your SPR tee with and SPR Hoodie. Go on.
Unisex pocket hoodie. Regular fit, pullover hood, inset sleeves, kangaroo pocket. Heavy weight, 350 GSM, 80% cotton 20% polyester anti-pill fleece. Lined hood, tonal shoestring drawcord, sleeve cuff ribbing, preshrunk to minimise shrinkage.
Unlike our normal kit orders, these items may be ordered any time and will be delivered direct to your door. Order on the Mayeur SPR shop here.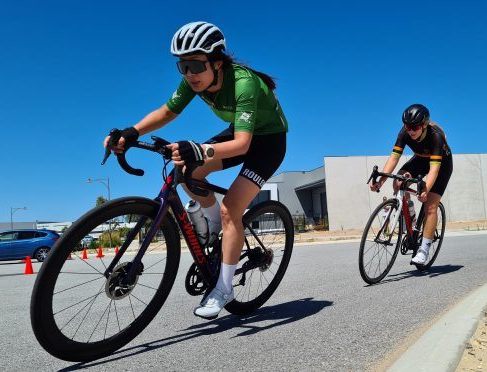 Racing this weekend – If you want to race, or get in on the action watching others race, read on.
1. WCMCC Casuarina Graded Scratch Road Race
2. PDCC Peel Womens and Junior Tour 2022
From the Ride Coordinator — This Sunday sees the return of an SPR Gravel ride.
A simple counter-clockwise loop of the Heritage railway trail – with options for some to do a longer ride if the numbers and inclination are there. If you have a gravel or mountain bike, come along – just ask anyone who did SeVen how much fun it is. Conditions will be perfect after the rains. We meet at 7.30am at Darlington Post Office. Plenty of parking and a coffee shop across the road.
Saturday takes us back to Maddington, where the crosswinds will hopefully be absent for a change. There are some tricky bends just after we cross Shelley bridge so remember to hold your lines to allow riders in both lines enough space to get around safely; the same applies to all roundabouts. The first step for to an enjoyable morning for all is for everyone to get back to the coffee shop safely (and have a good coffee).
Saturday 28th May
Sunday 29th May
Monday 30th May
Tuesday 31st May
Wednesday 1st June
Thursday 2nd June
Friday 3rd June