Many of us have marvelled at Adam and Arletta Ralph climbing the Dolomites, Italy this past fortnight culminating in Adam racing the 35th "Maratona" last weekend.
From the Event – "The sun smiled on the almost seven thousand participants of the 35th edition of the Maratona dles Dolomites – Enel. A Marathon dedicated to the "Ciüf", the flowers, in the knowledge that a new balance between nature and man is more necessary than ever. Staged on the roads closed to traffic that allow the cyclists to enjoy, albeit with fatigue, the wonderful Dolomite passes: Campolongo, Pordoi, Sella, Gardena, Falzarego, Giau and Valparola."
Adam completed the 137 km course with over 4,200m elevation in a tad over six and a half hours, describing it as an "Amazing party and beautiful celebration of the bike with a new PB for smiles per mile" Chapeau !
We have also loved seeing Arletta embrace her first "mountains experience" and tackling many days in the saddle with over 1200 m elevation too ! Even Arletta was surprised how much she now loves climbing, "who even knew I could ride up and down the mountains?', "pushing myself whilst trying to take in all the splendour" with so many passages "like riding a postcard".
Adam and Arletta were joined by their daughter Teehani who enjoyed hiking the mountains, making may trails her own. Safe onwards journey Team Ralph, this is one grand adventure we can't wait to hear more about first hand.
Farewell Sam — Our beloved Flockie, SPR Club Secretary Sam Walker (nee Flockhart), hubby Liam and fur babies Comet and Ziggy are leaving us to relocate to Victoria, just outside Melbourne in Point Cook. Sam has been working very hard in mining for almost a decade, finished her degree and nearly finished her MBA and has been snapped up for a great opportunity with Toll Holdings, leaving mining, WA and sadly, SPR.
Sam and Liam took up cycling in 2012 after returning to Perth from Kalgoorlie. They were looking for a way to get fit, stay healthy and a google search led them to our Club. At first Sam said " I wasn't going to get too serious about cycling, no lycra, no N+1 number of bikes, no cleats on my shoes and definitely no racing. All of that changed within a year" Sam goes on to add "SPR has led us to a wonderful community and many, many friendships that will last a lifetime and have provided us some of the most memorable holidays, Tours Down Under and dinner parties that we look back on fondly"
Sam was elected to SPR Committee in 2021, assuming the excutive role of Secretary and also sitting on the Women's Sub – Committee making wonderful contributions of her time and skills and will be very missed by our Club's Committee. We asked Sam about some of her most memorable moments on the bike and she had a great many but one of her proudest was placing third in the TT at the Australian Masters Championships in Victoria in 2018 and riding the 2017 Tour of Margaret River with SPR and having Annemiek van Vluten guest ride with their team. "Seeing my fitness, power and speed improving through training is also very rewarding and having the opportunity to join the Dome Coffees Cycling Team for the 2021 Tour of Margaret River was a special moment"
Sam sums it up for so many of us at SPR "there are so many inspirational people in our Club that have driven me to want to be a better rider over the years and sound guidance and advice, not just in relation to cycling and racing, but also life and career development"
We will miss Sam and Liam greatly and wish them all the very best but this is not goodbye, just until we all meet again …
Call for Sponsors — SPR Tour of Margaret River 2020. The Tour of Margaret River three day cycling event has been a key success of the South Perth Rouleurs through the Clubs commitment to providing a well organised, safe and social ride experience. The hard work and dedication of each and every cyclist in the months leading up to the event and its race volunteers ensure a quality experience for all.
In 2022 though, inclusiveness has been taken to a whole new level with the number of six-member teams increasing from nine in 2021 up to 15 teams, including an additional women's team and introducing two mixed teams.
However it is through the support of our sponsors that the Club can increase the number of teams participating and the sense of comrade that is achieved through the inclusion and support of our community to take this beyond a
cycling event.
If this is you or your business we would love to hear from you via this Expression of Interest.
https://forms.gle/wpn6DyfikqvCmW7P8
We will provide preference to any club members who would like to sponsor, but also consider sharing this opportunity with any businesses that you know of that might be interested.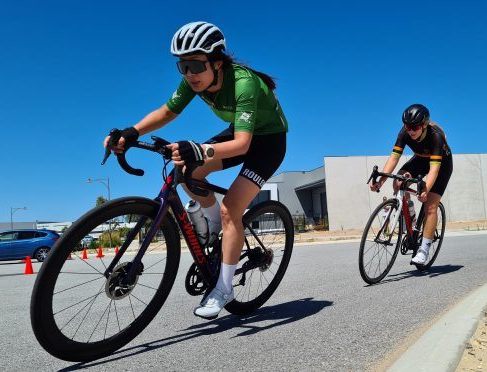 Racing this weekend – If you want to race, or get in on the action watching others race, read on.
1. WCMCC Casuarina Graded Scratch Road Race
2. PDCC Peel 24 Hour — not this weekend, but get your entries in!
From the Ride Coordinator — The weather looks promising for our Saturday ride, with rain only forecast later in the day. That means the EarlyBird may be more appealing than the extra river loop, for those inclined to do a bit more.
SPR is keen to expand the ride route options and will be investigating some new routes for Saturday and Sunday rides in coming months. These could be different versions & combinations of existing rides, as well as some new roads. If anyone has suggestions for these, feel free to email GPX or TCX suggestions to ride-routes@southperthrouleurs.com.au.
Starting this Wednesday we will formalise a bi-weekly "transition" ride, starting at 10am from Coode St car park. This is an ideal ride for those who can make it, looking for a safe space to transition from riding on their own, to riding in a group, as well as those just looking for a gentle 30km ride.
Saturday 9th July
Sunday 10th July
Monday 11th July
Tuesday 12th July
Wednesday 13th July
Thursday 14th July
Friday 15th July