TOMR 2022 (SPR Edition) is going to be huge. The course has been released — 5 stages over 3 days — and with no point-to-point. Bring it on.
Also released — the SPR contingent is providing more opportunities than ever to pin on a number and ride the Tour, including mixed teams for the first time — 2 mixed teams, 4 women's and 9 men's.
SPR National Kit — If you have qualified for Gran Fondo or Gravel Worlds, or if you just want to rep your club on an international stage you'll want to be getting the new SPR Australian kit!
Kit shop will be open for national kit only until 3 July. Get in quick!
SPRockets Answers for Cancer Team — I want to do a shoutout to Bree Mitchell, Faye Dalglish-Jones and Greg Jones, who have been working hard fundraising for their participation in the 2022 Cancer ride later this year. And kudos for the most excellent fundraising evening they put together recently.
For me, it is always worth hearing the stories that motivate people in our community to work for the betterment of our society. For Bree, it is a family connection, for Faye and Greg it is just as personal if not a little closer to home. Those of you that have been around the SPR community for a little while will know that many of us, myself included, have our own stories telling of lives interrupted by cancer. There is so much that our doctors know about curing and preventing cancer, but there is more needed for it to be truly beaten.
There are a few ways you contribute to Bree, Faye and Greg's efforts this year – directly or by purchasing a jersey.
For those curious to take a walk down memory lane, this is not the first time SPR has rallied around members riding to cure cancer — remember this Liam, Sam & Brooke? 😎
The Tour de France is arguably the most famous epic road race so come along to celebrate the event in style at Chez Pierre Nedlands on Tuesday 5 July.
This event has always been an excellent night, with Chez Pierre always putting on amazing food. It is after all something for which the French are renowned.
Despite my (clearly unnecessary!) warnings about missing out, we still have a few tickets available, so if you are interested take a look. Get your tickets here.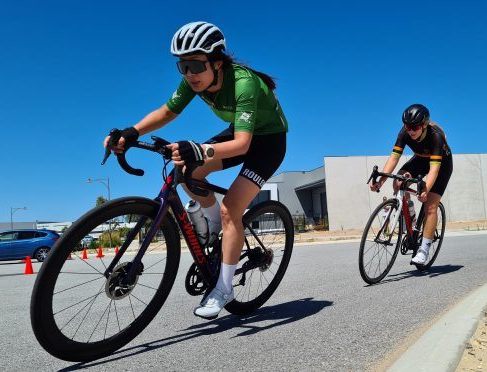 Racing this weekend – If you want to race, or get in on the action watching others race, read on.
1. PDCC Peel 24 Hour — not this weekend, but get your entries in!
From the Ride Coordinator — Last week we had the Winter Solstice, which means from here on it gets lighter each morning. But it's still pretty dark, so remember your front and back lights for early morning rides, and long commutes to the start of the 7am rides — make sure they're working and batteries are charged. When it's dark, and you're riding in a group, a flashing rear light can be distracting for the rider behind you, so switch to a constant setting if you can.
Despite it being mid-winter, we've got fine weather again this weekend and the main groups on Saturday can celebrate with a gentle climb up and over Ridge Hill Road.
See you there.
Saturday 2nd July
Sunday 3rd July
Monday 4th July
Tuesday 5th July
Wednesday 6th July
Thursday 7th July
Friday 8th July