I hope you all have a glorious Easter, including a break and all the kilometres your hearts desire. At least for part of that, SPR can help – starting with our gourmet assortment of ride options tomorrow for Good Friday, and throughout the extended weekend. Enjoy.
In case you have missed it, we have the 9th Annual Vice Presidents Ride (see the Facebook event) at 6am, a Medio option of the same at 7am (see Facebook event for details) – both including Hot Cross Buns at Wungong Dam. We also have our usual Friday EBR and Public Holidays rides. Spoiled for choice.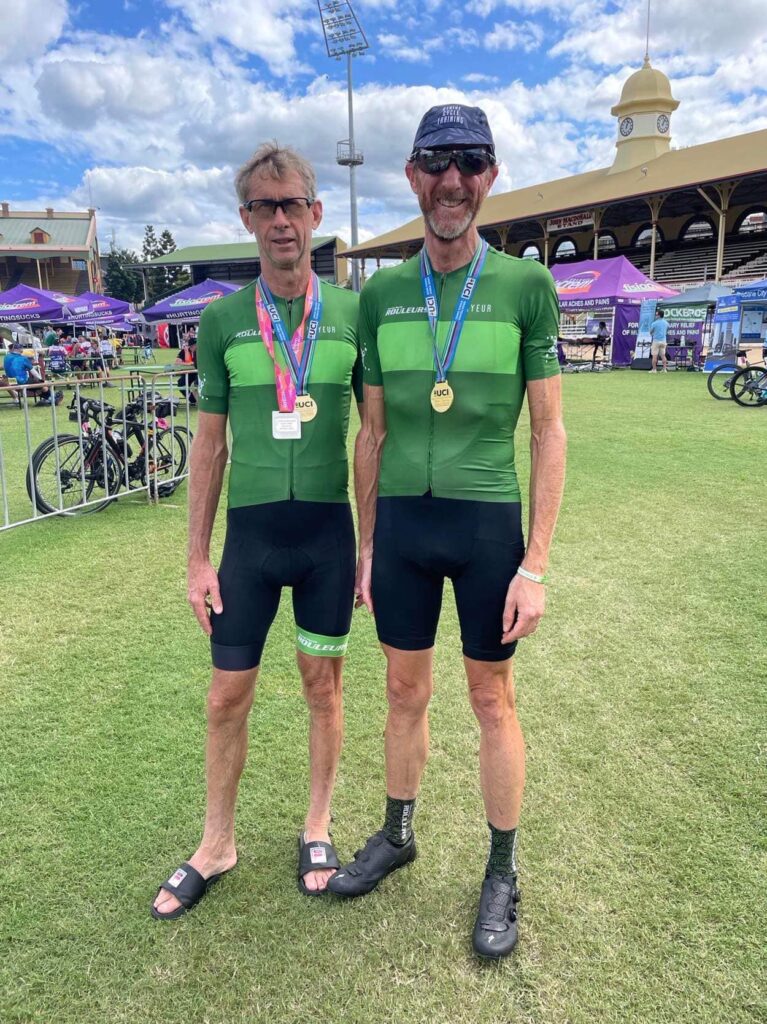 We spoke last week of Michael Bonner and Adam Ralphs' journey east to participate in the UCI qualifier event at the Tour de Brisbane.
And they had a huge weekend. I have huge respect for each of these men, not only excellent athletes (a 2nd and a 4th anyone), not only respected leaders within the SPR community, but men who manage to fit words like jouissance in when describing their cycling. Kudo gents.
Committee 2022 Edition – First, an apology – with the wet weather we forgot to take an official Committee photo for 2022. This will be rectified 😎
That out of the way, I am very pleased to present our Committee for the year of 2022:
You will be familiar with Andrew, Sam and Shirley who are continuing in the Vice President, Secretary and Treasurer roles. Having steady hands in these roles is good for club and very much appreciated.
Also continuing on are Carol Dowse (Community Development), Steve Burns (Race), Greg (Training and Development) and Tom Goerke (General Committee). Thank you.
It is also my pleasure to formally welcome to the Committee Mandy McEvoy (Membership & Communications) and Mark de Castro (Ride Route Coordinator).
I will be announcing in upcoming weeks some new Committee members who have volunteered since the AGM. The Committee has also been discussing some changes to the roles in order to better serve the needs of members. Keep your eye out for the announcement in the next few weeks.
The epic Three, Five and Se˄en is being held on Sunday 15 May in Nannup. The shorter courses, 50km (Three) and 85km (Five) are on the same gravel, clay/mud, quartz grit and mica tracks as SE˄EN and have plenty of room to pass. These distances are still challenging and designed as preparation for taking on the full SE˄EN course in future years.
With a 10 hour cut off time for SE˄EN to cover 125km, finishing is a triumph.
If interested check out accommodation around Nannup before registering for 2022 here (official website here).
If gravel rides sounds like something you would like to get into (for 2023!!), SPR can organise an information session around the end of May; bikes, training and preparation. Contact Carol comdev@southperthrouleurs.com.au if interested.
📸 Photo credits Peter McDonald and official Seven website
Paris-Roubaix at The Local – For the seventh year in a row (minus 2020), Paris-Roubaix will be screened live at The Local Hotel, 282 South Terrace, South Fremantle.
Long time SPR member Adrian Emilsen is invites you to join him for a beer and some banter, to watch the 2022 edition of The Hell of the North live on the big screen in the Garage Bar.
Please note that this event will take place within the current Covid restrictions. Proof of vaccination is required.
Details on Facebook here.
Jim Flynn and the Indian Pacific Wheel Ride 2022 – Three weeks in for Jim on his IndiPac 2022 adventure and lots of kilometres already behind him, although some big climbs ahead.
See below for the progress update as at now and see his latest Facebook post here. Live tracking here.
Are we there yet???
New Race Day Gear – the SPR Kit Subcommittee and Mayeur are proud to announce the SPR Race Day Hoodie and SPR Race Day Tee for your wearing pleasure.
You know you want one.
Unlike our normal kit orders, these items may be ordered any time and will be delivered direct to your door. Order on the Mayeur SPR shop here.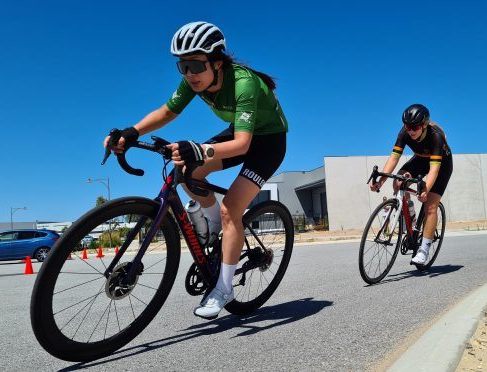 Criterium racing this weekend – If you want to race, or get in on the action watching others race, read on.
<not this weekend!>
From the Ride Coordinator – This is your new ride-route-picker speaking. Thanks Greg for doing such a fantastic job of the route selections and blog updates for so long. Hopefully the transition is smooth while I get the hang of this. Feel free to contact me if you're aware of any roadworks or other issues that could affect upcoming or existing route selection.
It's looking like a great long weekend for riding – the weather is being kind to us, and there's plenty of choice for everyone. With TWO public holidays we get to ride the standard plus the new one North of the river. Please familiarise yourself with this and all routes before heading out. The last thing we want is one rider in a group heading straight at an intersection, when the rest hang a right; it doesn't end well…With days getting shorter, remember your front and back lights for early morning rides, and long commutes to the start of the 7am rides – make sure they're working and batteries are charged. When it's dark, and you're riding in a group, a flashing rear light can be distracting for the rider behind you, so switch to a constant setting if you can.
Saturday is an old favourite – South Lake – should be fun if the wind stays Southerly. If you haven't ridden this for some time, there have been some significant changes/improvements along Jandakot road. Mostly to make it better, but look out for a few new roundabouts.
Saturday 16th April
Sunday 17th April
Monday 18th April – Easter Monday
Tuesday 19th April
Wednesday 20th April
Thursday 21st April
Friday 22nd April