Bring your family and friends to celebrate with SPR the Giro d'Italia at Bella Rosa on Monday 9 May 2022 6pm for 6.30pm start. We had a wonderful time at the Bella Rosa last year, and this year is sure not to disappoint!
Menu for $52 includes a two course meal, coffee and corkage (alcoholic drinks).
Please have a read of the menu.
Updated: Tickets available on the SPR shop now!
If you have any queries, please get in touch with Carol by email on comdev@southperthrouleurs.com.au
SPR Short Hills Accident Update — Most of you will be aware that we had a serious accident on SPR Short Hills last Sunday (see earlier updates on Facebook here and here). The accident involved a head on collision of our riders with a car travelling on the wrong side of the road. Approximately 10 of our riders came down, with 3 hospitalised. Not only did it result in serious injury for several of our riders, but the accident was traumatic for everyone on the scene.
The good news — if that is the best word — is that our community and healthcare system responded quickly and our riders have received the very best of care.
Jay was airlifted by rescue helicopter to RPH. He sustained fractures to the neck, back and ribs as well as serious lacerations to his legs requiring plastic surgery and skin grafts. Jay will need to wear a brace for some weeks to allow his body to heal. SPR managed to connect with Jay again today to deliver a get-well hamper. I'm not sure about Jay, but my favourite item was the Sick Puppy Beer 😎
Jamie left the scene in an ambulance with serious lacerations to his leg and ankle. Thankfully there were no broken bones, with a small fracture to the ankle and quite deep lacerations to lower leg requiring attention from the plastic surgeon. Jamie was released from hospital yesterday but will be off the bike for quite some time. SPR again managed to connect with Jamie at his home today to deliver a get-well hamper.
Both Jay and Jamie asked me to pass on to everyone their deepest thanks for the way the SPR has offered support to each of them since the accident. And thank you from me — this type of caring and supporting response is truly one of the things I love about our club.
The final serious injury was Patrick Saccani-Williams. Patrick was treated at Emergency on Sunday but released that afternoon. He impacted his head in the collision, but he checked out OK and is very thankful that modern helmets provide good protection.
I also want to recognise the local couple who witnessed the accident, then rushed first aid supplies and blankets to the scene, and finally assisted by transporting (broken) bikes away from the scene. A number of you been in touch with me to ensure their assistance was recognised. And yes, SPR (thanks Di!) delivered flowers and a card to them earlier this week.
Finally, I would like to make a request to riders on the ride: We have details for most riders but are missing several — if you were on the ride could I please ask you to ping me an email on president@southperthrouleurs.com.au. This would be much appreciated, and will enable us to cover off several details. If anybody has any questions, please contact me directly by email.
Job Done — Huge congratulations are in order for SPR veteran Jim Flynn, who last Friday completed his epic Indian Pacific Wheel Ride adventure. 5,471 km from Fremante to the Sydney Opera House in 28 days — one week less than his base plan! Out of 16 starters he finished fifth. Only eight will finish.
My favourite quote from Jim:
"It is this human aspect of what is essentially a fairly solitary endurance event that has been the biggest surprise for me. It is this aspect of the ride that I will cherish the most and will look back with fondness for the rest of my life. It has made an amazing adventure even more extraordinary."
Chapeau Jim!!
Enjoy some rest and recovery.

The epic Three, Five and Se˄en is being held on Sunday 15 May in Nannup. The shorter courses, 50km (Three) and 85km (Five) are on the same gravel, clay/mud, quartz grit and mica tracks as SE˄EN and have plenty of room to pass. These distances are still challenging and designed as preparation for taking on the full SE˄EN course in future years.
With a 10 hour cut off time for SE˄EN to cover 125km, finishing is a triumph.
If interested check out accommodation around Nannup before registering for 2022 here (official website here).
If gravel rides sounds like something you would like to get into (for 2023!!), SPR can organise an information session around the end of May; bikes, training and preparation. Contact Carol comdev@southperthrouleurs.com.au if interested.
📸 Photo credits Peter McDonald and official Seven website
New Race Day Gear – the SPR Kit Subcommittee and Mayeur are proud to announce the SPR Race Day Hoodie and SPR Race Day Tee for your wearing pleasure.
You know you want one.
Unlike our normal kit orders, these items may be ordered any time and will be delivered direct to your door. Order on the Mayeur SPR shop here.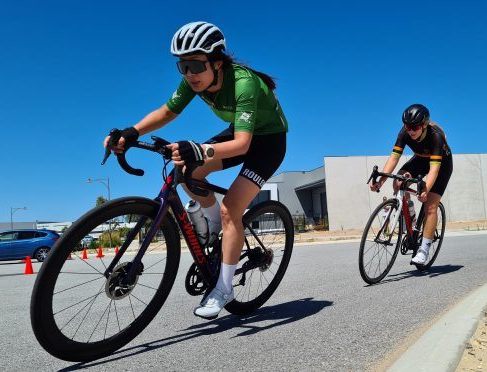 Criterium racing this weekend – If you want to race, or get in on the action watching others race, read on.
From the Ride Coordinator – Communication is critical in peletons. It begins before the ride with reading the blog, and knowing the ride route the group will be riding. There were a few close calls last week with riders heading in the wrong direction. If you know the group is about to turn, call it out and pass it on. Observations from the front AND back of the group need to be passed to all. We're generally good at passing messages from front to back, but less so at passing them forward when there is news from the rear – typically "car-back", "split" or "single file". Lets focus on that this week so we can all have fun, stay safe & enjoy the Goldilocks weather.
With the last of the Easterly winds this weekend, we're heading to Holmes Rd. There's only one climb, but it has a bit of a sting. Once you're over it, you can enjoy downhill, and then the tail wind home.
Saturday 23rd April
Sunday 24th April
Monday 25th April – Anzac Day
Tuesday 26th April
Wednesday 27th April
Thursday 28th April
Friday 29th April