There are two things that I've been thinking about this past week, that I think speak volumes about SPR as a club, and by that I mean all of you — for what is SPR but all of us, and our bikes 😎
First, as you may have guessed, is the way we come together when bad things happen — the recent accident being a clear demonstration of what a great community looks like. (Jay and Jamie are both home and "on the mend" so to speak — quite a journey ahead, but on the journey)
Second, has been recent visits of old friends. People have lives, and for many that takes them across the country and further afield (Germany anyone?), but the seeing them when they return is just good — and the community that is SPR is part of that. Fair travels Liam, Ginny, Heiko and Louise.
Good luck to everyone travelling to Collie for Tom Lowry Memorial!
Enjoy your week,
Daniel
SPR Giro d'Italia Dinner — There are still a few (eight at last count) tickets left! Bring your family and friends to celebrate with SPR the Giro d'Italia at Bella Rosa on Monday 9 May 2022 6pm for 6.30pm start. We had a wonderful time at the Bella Rosa last year, and this year is sure not to disappoint!
Menu for $52 includes a two course meal, coffee and corkage (alcoholic drinks).
Please have a read of the menu and get your tickets on the SPR shop now!
If you have any queries, please get in touch with Carol by email on comdev@southperthrouleurs.com.au
Expressions of Interest for Training and Development Subcommittee — Earlier this year members voted to increase the size of the SPR Committee which gives us a few options to look at things that you deem important. Some of the things we constantly get feedback on is things like riding skills, safety on rides, training and preparation for events just to name a few. So with the extra bods now on the committee, we are (re) introducing a Training and Development Subcommittee to scope out the needs of the club and it's members around these important areas.
We are seeking expressions of interest from 2-3 members to join 2-3 ride leaders for this important subcommittee. So if you a passion in this area and would like to make a contribution please send your expression of interest to development@southperthrouleurs.com.au. To give you an idea of the commitment required, it is planned that this group will meet for 90 minutes, every 6 weeks to initially scope priorities for the club in training and development.
Thanks for your attention
Greg Jones
New Race Day Gear – the SPR Kit Subcommittee and Mayeur are proud to announce the SPR Race Day Hoodie and SPR Race Day Tee for your wearing pleasure.
You know you want one.
Unlike our normal kit orders, these items may be ordered any time and will be delivered direct to your door. Order on the Mayeur SPR shop here.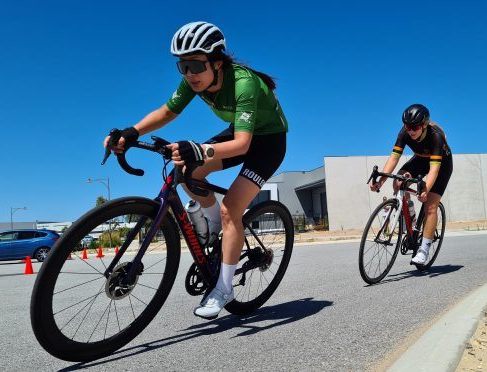 Racing this weekend – If you want to race, or get in on the action watching others race, read on.
1. Tom Lowry Memorial Road Race (entries closed)
From the Ride Coordinator – After a wet week, it looks like we're in luck again this weekend, with sunny Easterlies forecast both days, and Benara Rd to enjoy them on Saturday. To keep the rides safe for all, please help the ride leaders on the day by keeping group sizes in the 15-20 range, and make sure you match your pace to the majority of the group. Choose a faster group if you're feeling frisky, and step back one if you've had a tough week. You'll enjoy it more, and so will the group.
The standard SPR routes do get updated from time to time, so always download the latest one if you're going to follow on your Garmin. Don't make the embarrassing mistake I did last week, and follow a route that's been superseded. 😬
Saturday 30th April
Sunday 1st May
Monday 2nd May
Tuesday 3rd May
Wednesday 4th May
Thursday 5th May
Friday 6th May