Announcing the Tour of Margaret River 2022! The Rouleurs participation was a serious highlight for 2021, and we are keen to have as much fun this year. Get involved!
Have you ever thought about participating in the Tour of Margaret River (TOMR) but unsure what it involves?
Maybe you have participated before and would like to find out more on how to prepare a training plan or find out about racing strategy, nutrition or other training options to make your 2022 event even better. Others may wish to participate as a volunteer. Find out more at the SPR Information Session Wednesday 18 May hosted by Melody Wheels in O'Connor 6.15pm – 8.30pm. Previous participants will be there to provide insights into their preparation and experience.
The "Tour" is a team race with over 100 teams of 6 participating in 2021. It is held over three days 4 – 6 November based around Nannup and designed with team time trials and individual road races.
SPR is reaching out to those who have never thought to participate before or may be interested in competing in a well-matched mixed team. Please register for the information session via the shop for catering purposes – pizza provided.
If you are unable to attend but would like more information this can provided after the information session from Steve on race@southperthrouleurs.com.au.
79th Tom Lowry Memorial — The traditional opener to the WA road racing season, the 79th Tom Lowry Memorial was held in Collie last Saturday with a small but dedicated group of SPR Members heading South East to contest one of two iconic Collie Cycle Club Events.
Our Members contested Men's A (124km), Men's B (88km), Men's C and Women's B/C (62km). Steve and Mandy took the SPR Van down to show the Club's support, meeting up with a few other riders just out of Mandurah to convoy down. We had idlyic conditions, with light winds and mild temperatures over the undulating and scenic course — starting in the Motorplex, out onto the quiet country roads and back for an exciting lap of the Motorplex to finish.
SPR's best results came from Men's B with Mark Claydon 2nd, brand new Club member Andrew McDowell 3rd, Tim Pesch 5th and Sam Mettam rounding out the top 10. A small but fierce group contested Men's A with Callum Millard-Webb finishing 6th and Dan Mijat, JP Grygorcewicz and John Carnicelli all over close together just outside top 10 within a second of each other after the 124km! A tight bunch of our racing men roped in SPR Founder & past president Peter Mah to race with them in Men's C and controlled a lot of the race finishing just off the podium with BT first over for SPR in 9th. Mandy McEvoy and our Club Secretary Sam Walker were our only two female Member riders, Mandy completing her first road race and finishing 3rd in C Grade, racing combined B/C. Jane joined us in team support, which is always appreciated.
Our Club thanks to the Collie Cycle Club, Colllie Motorplex and Event sponsors – Premier Coal and the CFMEU, we'll see you all for the 97th running of the iconic Collie Donnybrook and return Saturday 20th August. Save the date as this premier event always sells out!
Enjoy the Tom Lowry photos from Patrick Boere (PB Photography) and full race results can be seen here
Volunteers needed for SEVEN — We have a relatively late notice shoutout for 2 or 3 volunteers to man a checkpoint at SEVEN on 15 May 2022. The location is the Ellis Creek Checkpoint. It's technically the hardest climb in the race, and you can see the checkpoint for most of the climb.
If we can have some volunteers we will be sending the SPR marquee, van and flags up there to cheer the riders on (SPR in particular!). This particular checkpoint only needs to be 'peopled' from 9:30am to 1pm, so it may suit non-riders who will be down supporting friends / family at the event.
Please get in touch with Steve on race@southperthrouleurs.com.au.
Expressions of Interest for Training and Development Subcommittee — Earlier this year members voted to increase the size of the SPR Committee which gives us a few options to look at things that you deem important. Some of the things we constantly get feedback on is things like riding skills, safety on rides, training and preparation for events just to name a few. So with the extra bods now on the committee, we are (re) introducing a Training and Development Subcommittee to scope out the needs of the club and it's members around these important areas.
We are seeking expressions of interest from 2-3 members to join 2-3 ride leaders for this important subcommittee. So if you a passion in this area and would like to make a contribution please send your expression of interest to development@southperthrouleurs.com.au. To give you an idea of the commitment required, it is planned that this group will meet for 90 minutes, every 6 weeks to initially scope priorities for the club in training and development.
*** Important: EOIs close next Tuesday 10th May ***
Thanks for your attention
Greg Jones
New Race Day Gear – the SPR Kit Subcommittee and Mayeur are proud to announce the SPR Race Day Hoodie and SPR Race Day Tee for your wearing pleasure.
You know you want one.
Unlike our normal kit orders, these items may be ordered any time and will be delivered direct to your door. Order on the Mayeur SPR shop here.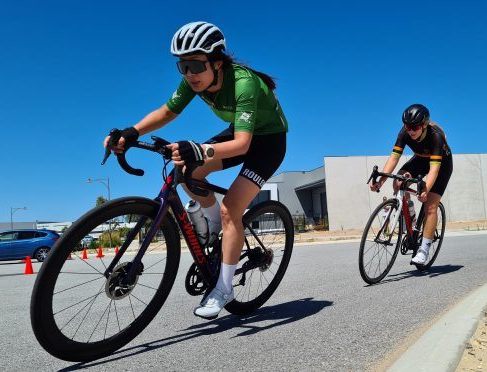 Racing this weekend – If you want to race, or get in on the action watching others race, read on.
Not this weekend! SPR Hills ride anyone??
From the Ride Coordinator – More perfect weather this weekend – how lucky are we? Our ride leaders aim to facilitate a safe fun experience for the group, so that we can all enjoy a coffee together after the ride. Nobody wants to be left riding on their own, and sometimes this leads to pushing our luck at red lights to avoid being dropped by the group. We can help prevent this if we look out for each other. There is less temptation to shoot the light if we know the group will wait for us. If you think you won't safely get through a light , call "STOPPING" before/while braking to warn the group. Call "SPLIT" If the group splits. Remember to pass the SPLIT message up to the front of the group ahead, who should then either pull over if there is a safe spot, or ride easy until the others are back on. Most times this is done, but given the potential consequences if we don't, it's worth reinforcing.
This week's route is a relatively flat one with one small bump in the middle, and a nice downwinder along Morley drive.
Enjoy and stay safe!
Saturday 7th May
Sunday 8th May
Monday 9th May
Tuesday 10th May
Wednesday 11th May
Thursday 12th May
Friday 13th May