So the photo above is from several years back, but the pain, hard work and amazing scenery available this weekend at SEVEN is all brand new.
We wish all the best to everyone riding this weekend. SPR and friends in particular.
Go well.
SPR Tour of Margaret River Info Night — A reminder that we are holding an information night for SPR's TOMR 2022! The Rouleurs participation was a serious highlight for 2021, and we are keen to have as much fun this year. Get involved!
Have you ever thought about participating in the Tour of Margaret River (TOMR) but unsure what it involves?
Maybe you have participated before and would like to find out more on how to prepare a training plan or find out about racing strategy, nutrition or other training options to make your 2022 event even better. Others may wish to participate as a volunteer. Find out more at the SPR Information Session Wednesday 18 May hosted by Melody Wheels in O'Connor 6.15pm – 8.30pm. Previous participants will be there to provide insights into their preparation and experience.
The "Tour" is a team race with over 100 teams of 6 participating in 2021. It is held over three days 4 – 6 November based around Nannup and designed with team time trials and individual road races.
SPR is reaching out to those who have never thought to participate before or may be interested in competing in a well-matched mixed team. Please register for the information session via the shop for catering purposes – pizza provided.
If you are unable to attend but would like more information this can provided after the information session from Steve on race@southperthrouleurs.com.au.
SPR Ride Leaders riding to raise money for cancer research — A small group of SPR Ride Leaders are banding together this year to train, fundraise and ride to support WA cancer research for the Harry Perkins Institute by participating in the MACA Cancer200 ride in October.
Inspired by the many members who regularly participate in the Canteen ride; Bree Mitchell, Faye Dalglish-Jones and Greg Jones all have their own motivations and stories about how cancer has impacted them or their loved ones and have decided that 2022 is a year they want to make a difference. In a nod to their SPR club affiliation they have named their team for the event The SPRockets. If you feel you want to contribute to cancer research and support our ride leaders who support us every Saturday, you can visit their fundraising page at
https://www.cancer200.org.au/fundraisers/sprockets
Donations are tax deductible and go towards world class cancer research right here in WA.
Please support "Our own team" in their endeavours to help find answers for cancers.
Peel Womens and Junior Tour — Calling our SPR Chicks and Juniors, have you seen this exciting upcoming Event from Peel District Cycling Club?
Aimed at novice/intermediate racers this is a 3 discipline Event — with an ITT, Criterium and Road Race down at the Kwinana Motorplex Sunday 29 May.
Entry is $35 (with $5 transponder hire) with Grades from A – D. An AusCycling "Race – All Disciplines" license is required but 4-week free trial licenses are accepted.
Interested? Entry via the Facebook event or direct via Entryboss https://entryboss.cc/races/11021.
SPR Race Day Hoodie — With the weather getting colder, replace your SPR tee with and SPR Hoodie. Go on.
Unisex pocket hoodie. Regular fit, pullover hood, inset sleeves, kangaroo pocket. Heavy weight, 350 GSM, 80% cotton 20% polyester anti-pill fleece. Lined hood, tonal shoestring drawcord, sleeve cuff ribbing, preshrunk to minimise shrinkage.
Unlike our normal kit orders, these items may be ordered any time and will be delivered direct to your door. Order on the Mayeur SPR shop here.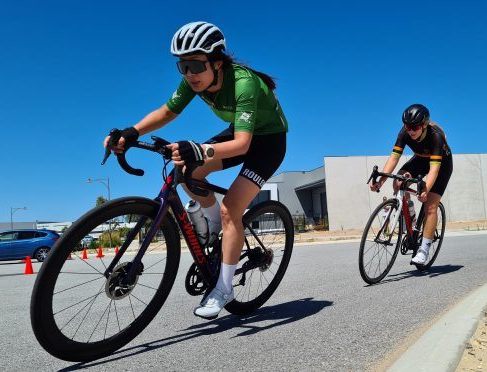 Racing this weekend – If you want to race, or get in on the action watching others race, read on.
1. WCMCC Herne Hill Graded Scratch Road Race
From the Ride Coordinator — There's definitely a change in climate this week. Hopefully the rain holds off and we have dry weather for the rides, but please be prepared in case we don't. Running wider tyres and dropping tyre pressure by 10-15psi add grip in wet weather, so consider this your preparation for winter rides. And take it easy on corners – especially at roundabouts where the camber is usually the wrong way. Westerly winds mean we can go back to courses we haven't ridden for a while – main groups can enjoy the ups and downs of Scarborough Beach & Hale on Saturday.
Many including myself will be away for SeVen in Nannup this weekend – and we hope to reinstate some Sunday gravel rides in the coming months. Watch this space.
Saturday 14th May
Sunday 15th May
Monday 16th May
Tuesday 17th May
Wednesday 18th May
Thursday 19th May
Friday 20th May