Kudos Jai Hindley — Between our social media feeds, and all of the shouting from all of you since Jai Hindley took the win in the Giro this week, this has been said plenty. Thought it bears repeating – congratulations, and serious kudos.
But let me get political for just a moment. The photo above is one of the podium's from a State Criterium Championship held in 2012, run as a joint event by SPR and Roues Chaude Cycling Club (RCCC). The photo on the left is from our advertisement of the same, and you can still find the blog post on our website here. And the two gents in the photo are none other than the immediate past President of SPR, Peter Mah (elprez) and President (to this day) of RCCC, Daniel O'Donoghue.
And on the podium some names your will recognise, even if the faces are little harder to recognise 10 years on — Sam Welsford (now Team DSM), Jai Hindley (now Bora-Hansgrohe) and Michael Storer (now Groupama–FDJ).
One final detail — if you look at our blog post from 2012 and read the comments, you probably recognise the names of club members volunteering their time to assist with the setup and running of the race.
Why is this important you might ask? The pathways for our junior riders, the place they learn to race, the launching pad for racing nationally in Australia and then competing overseas… is right here, competing in local club racing conducted primarily by volunteers.
So if you hear me, or any of the other local club presidents, working to garner support for local racing — whether from the Federal, State or Local Governments — or our local and national sporting bodies — and whether that be support for running races or advocacy for cycling facilities such as a criterium track — you at least know one of the reasons why it is important.
Kudos Jai Hindley.
Peel Womens and Junior Tour — It was a wonderful day for racing, and our Members contested all grades A – D, and we had podiums in A Grade – 3rd Teneal Attard; B Grade WIN, 1st for our Club Secretary Sam Walker and C Grade – 3rd Alison Duffey coming back to racing.
Congratulations to our women, and thanks to PDCC for putting on the event.
SPR Kit Order — The kit shop is open for our next order! The order closes on 6 June with expected delivery late July. Sample kit for sizing is available at R&D Speedshop in Claremont (thank you!). You have the option of pickup from R&D Speedshop or posted directly to you.
All the details about club kit here with ordering direct from Mayeur's SPR shop.
SPR Race Day Hoodie — With the weather getting colder, replace your SPR tee with and SPR Hoodie. Go on.
Unisex pocket hoodie. Regular fit, pullover hood, inset sleeves, kangaroo pocket. Heavy weight, 350 GSM, 80% cotton 20% polyester anti-pill fleece. Lined hood, tonal shoestring drawcord, sleeve cuff ribbing, preshrunk to minimise shrinkage.
Unlike our normal kit orders, these items may be ordered any time and will be delivered direct to your door. Order on the Mayeur SPR shop here.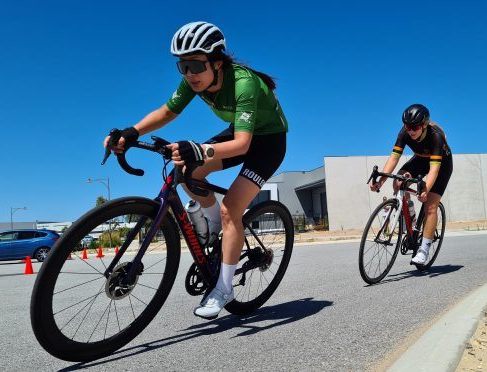 Racing this weekend – If you want to race, or get in on the action watching others race, read on.
1. 2022 Goldfields Cyclassic – Race
From the Ride Coordinator — SPR keeps records of all crashes that happen on our scheduled rides and races. While May and June usually record the lowest number of accidents, we had a blip this May, with three crashes.
It's a good time to reflect on what is by far our most common cause of accidents; Inattention. This usually manifests by a touch of wheels, with the rider at the back not braking in time when the bike in front slows. Riding efficiently in a peloton means you're close to the bike in front; typically half to one meter. To do this safely, you need to ensure your following distance matches your reflexes. Riders also need to call out clearly when slowing or seeing a hazard. Most people do this most of the time, but there's always room for improvement. Let's try and focus on this in the weeks ahead so that it becomes a habit for all.
Monday Public Holiday ride is the new NORTH option, worth checking out the map if you're not familiar with the route.
Saturday 4th June
Sunday 5th June
Monday 6th June
Tuesday 7th June
Wednesday 8th June
Thursday 9th June
Friday 10th June