SPR is pleased to formally launch the club's participation in the Tour of Margaret River for 2022, and call for Expressions of Interest from riders and/or volunteers who are considering joining an SPR team for this year's event.
The event runs in November so there is plenty of time for preparation, and SPR has lots of support for riders, no matter what your goals.
Most of you will have received an email the weekend just gone — though check your spam folder as we are just getting our e-mail system working again and have hard reports of emails going missing.
You can read our mail-out here, even if you did not receive the email directly 😎
It contains a link to Expression of Interest form and links to the full pack from our information session.
Get involved! If you are interested, please respond no later than Sunday 19 June.
SPR Tour de France Dinner 2022 — The Tour de France is arguably the most famous epic road race so come along to celebrate the event in style at Chez Pierre Nedlands on Tuesday 5 July 6.00pm for a 6.30pm start
Tickets are (extremely) limited so don't wait. See if you can find the hidden cyclist in the logo.
Get your tickets here.
2022 Goldfields Cyclassic — This classic race was held over the weekend. SPR had 5 riders in the mix — well done to Olesya Alutina, Nathalie Laurendeau, Stuart Gee, Greg Bayley and Craig Denham!
SPR Race Day Hoodie — With the weather getting colder, replace your SPR tee with and SPR Hoodie. Go on.
Unisex pocket hoodie. Regular fit, pullover hood, inset sleeves, kangaroo pocket. Heavy weight, 350 GSM, 80% cotton 20% polyester anti-pill fleece. Lined hood, tonal shoestring drawcord, sleeve cuff ribbing, preshrunk to minimise shrinkage.
Unlike our normal kit orders, these items may be ordered any time and will be delivered direct to your door. Order on the Mayeur SPR shop here.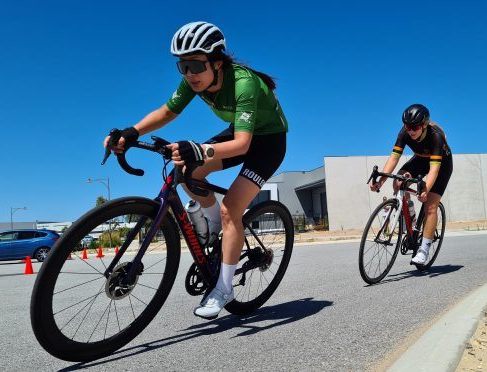 Racing this weekend – If you want to race, or get in on the action watching others race, read on.
1. PDCC Winter Road Racing Series #2 – Casuarina
2. WCMCC Baldivis Graded Scratch Road Race
From the Ride Coordinator — Well it looks like the weatherman finally realised it's winter, and we're gonna have to deal with some wet roads for a little while, including most of the weekend. For those venturing beyond Zwift, remember to lower tyre pressure 10-15psi for extra grip in the rain (and a smoother ride).
To try and offset the weather, I've chosen the shortest Saturday route we have – Abernathy Rd, with a nice downwinder back home along Guilford Rd for both main and transitional groups on Saturday. Remember the road changes near the start as we head out East from the carpark – there's a new left lane separated by a narrow median strip. Bigger groups are better off on the right of the strip, which only lasts about half a km.
Saturday 11th June
Sunday 12th June
Monday 13th June
Tuesday 14th June
Wednesday 15th June
Thursday 16th June
Friday 17th June