Whether you enjoy group rides, fondos or racing… there are opportunities aplenty in and around Perth. SPR will be running our Water Tower Challenge 11 September with a new southern course (announcement coming soon!) and our Team Time Trial 9 October (think preparation for the Tour of Margaret River).
And in August, there are opportunities in York and Collie.
Collie to Donnybrook and Return Cycle Classic — Collie Cycling Club is one of the oldest cycling clubs in WA and the Collie to Donnybrook, to be held on 20 August 2022, is a classic race with a long and venerable history. The race, which began in 1925, is the only true remaining handicap event in WA. It is steeped in tradition and is the premier road race on the Western Australian cycling calendar.
The handicap format gives everyone a chance to get to the finish line first.
The historic race begins in the WA coal mining town of Collie, 200km south of Perth, and heads through hilly terrain towards Mumballup for 21km before turning and heading towards the township of Donnybrook. This is the halfway point. Riders then turn and return back to Mumballup. The last 21km of the course is very arduous through the hills to the finish line in the main street of Collie. The riders will complete 104 kilometers in total.
More details on Facebook and Entryboss.
WA State Fondo Series York Canola Classic — The York Canola Classic, to be held on 28 August 2022, is a picturesque mass-participation recreational ride hosted in the stunning Shire of York, approximately 90km east of the Perth CBD. Riders are invited to choose from a 93km or 52km distance option that will take you on a scenic journey from heart of the Town of York, through to the striking yellow canola fields of the Avon Valley Region.
You can enter as an individual or team, riding for a collective team time. This event was very popular last year and looks to be the again this time round.
All the details here.
Ride Leader Program 2022 Edition — Please see our blog post last week announcing our call for Expressions of Interest for the 2022 edition of our Ride Leaders course.
Have a read, and consider if you might be up for contributing to to the safe running of SPR group rides.
The blog post has lots of information about the program, its goals and the training you will receive. But if you have any questions, please do get in touch with Greg Jones via development@southperthrouleurs.com.au.
Call for Sponsors — SPR Tour of Margaret River 2020. The Tour of Margaret River three day cycling event has been a key success of the South Perth Rouleurs through the Clubs commitment to providing a well organised, safe and social ride experience. The hard work and dedication of each and every cyclist in the months leading up to the event and its race volunteers ensure a quality experience for all.
In 2022 though, inclusiveness has been taken to a whole new level with the number of six-member teams increasing from nine in 2021 up to 15 teams, including an additional women's team and introducing two mixed teams.
However it is through the support of our sponsors that the Club can increase the number of teams participating and the sense of comrade that is achieved through the inclusion and support of our community to take this beyond a
cycling event.
If this is you or your business we would love to hear from you via this Expression of Interest.
https://forms.gle/wpn6DyfikqvCmW7P8
We will provide preference to any club members who would like to sponsor, but also consider sharing this opportunity with any businesses that you know of that might be interested.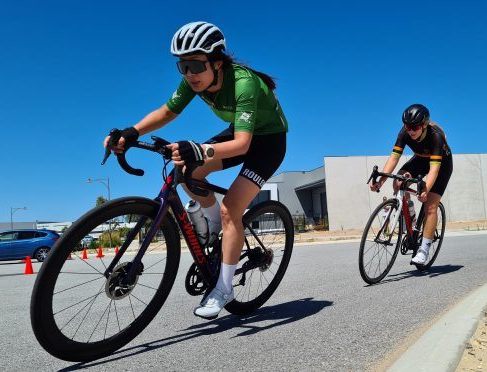 Racing this weekend – If you want to race, or get in on the action watching others race, read on.
1. WCMCC Baldivis Graded Scratch Road Race
2. 97th Collie to Donnybrook & Return Cycling Classic (not this weekend but get your entries in!)
From the Ride Coordinator — Apologies for not posting last week – too busy recovering from some stupidly steep hills the day before, in Madeira (but the views were spectacular)
It looks like there's plenty more rain coming in Perth, especially on Saturday so remember to clean your drive trains regularly if you've been ringing in or after rain. The mud that gets thrown up onto your chain causes it to wear at least ten times faster than a clean chain would do. I use a Park Tool with some basic dishwashing liquid & warm water, and it works a treat. Do as much as you can to dry the chain after cleaning, and before reapplying chain lube. A compressor is best for this, but a rag and some time in a warm dry room, or even a hairdryer works too. Removing the chain makes drying a lot easier. As always, check braking surfaces and pads regularly.
For the fair weather riders there an SPR Zwift club ride as well. It's a flatter one this time so hopefully the group stays together – we're a sociable bunch after all! Enjoy!
Saturday 23rd July
Sunday 24th July
Monday 25th July
Tuesday 26th July
Wednesday 27th July
Thursday 28th July
Friday 29th July