So it is new kit day! The most recent SPR kit order has arrived and will be available to collect from R&D Speedshop AFTER 12pm on Saturday. Enjoy.
A couple of reminders please: Do be polite to the team at R&D Speedshop. This is a free service they provide to the club, and one for which we are hugely grateful. And given the kit being collected, how each of us acts is directly reflecting back on the club.
Second: If you selected and paid postage when you ordered, don't go to Claremont!! Your order is in the mail 😎
SPR Family Day Lunch — Celebrate the Spanish La Vuelta, last of three grand cycling tours in Europe with a Paella lunch at Como Bowling Club.
You may even want to bring Dad as this is also Father's Day 🙂
When: Sunday 4 September, 12.00pm – 3pm
Where: Como Bowling Club
In recognition of the support families provide so members can get out and cycle, the Club is hosting a family day lunch. To make it a little bit special with a cycling theme, what better way than with Paella, a traditional Spanish dish to coincide with La Vuelta. As the calendar is crowded during the grand tour the date has landed on Father's Day. So what a great way to celebrate – all friends and family welcome and SAVE THE DATE.
Tickets/prices to be available soon.
AusCycling WACX State Championships — There was plenty of green on display at the 2022 WACX State Championships, not just on the entry list but also on the podium.
Huge shoutout to the SPR podiums:
U13 1st Oscar Barrett
Open 1st Adrian Emilsen
MMB 3rd Tony Lendrum
WB 1st Mandy McEvoy
WC 1st Anna Schwartz
Check out photos below, the full results and some professional photos of the event.
📸 Lou Carson
Noosa Gravel Enduro 100 — A shoutout to Tony Lendrum and Drew Mitchell, who are heading over to Noosa this weekend. The event incorporates multiple distances including the AusCycling Gravel National Championships. Check out all the details here.
Go hard gentlemen!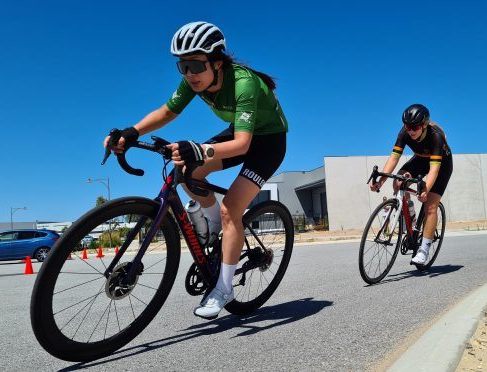 Racing this weekend – If you want to race, or get in on the action watching others race, read on.
1. WCMCC Dwellingup Graded Handicap Road Race
2. PDCC Winter Road Racing Series #4 – President's Cup
3. 97th Collie to Donnybrook & Return Cycling Classic (not this weekend but get your entries in!)
From the Ride Coordinator — Looks like the weather gods are not smiling on our Saturday mornings right now with another grim forecast looking for Saturday morning. Could be a good opportunity for those in the Couch Peleton to settle into what is an absolutely riveting Tour De France Femmes on Friday evening or perhaps join your own Zwift ride. For those that admire what a certain Belgium rider did in the Mens event, then braving the rainy conditions might just be for you. Perhaps you might also choose to save your legs for Sunday when the weather looks a bit better. Whatever you choose to do this weekend, make the most of it. 
Saturday 30th July
Sunday 31st July
Monday 1st August
Tuesday 2nd August
Wednesday 3rd August
Thursday 4th August
Friday 5th August