SPR Chick's Dinner — As you are probably aware we have the SPR Women's Subcommittee up and running, and one of the events we have planned is a women's only dinner!
When: Wednesday 17 August, 6pm
Where: The Como in South Perth
We would love as many women as possible to come along to this event, to catch up, meet new people (without lycra, strava, garmin and all the gadgets) and enjoy lots of laughter. Please be aware there will be no QOMs, or PRs that evening but a lot of women gathering to encourage one another in a sport we all enjoy.
Please see this link to register your interest:
https://facebook.com/events/s/spr-chicks-dinner/472747301358827/
Or, if you don't have Facebook, can Amy on women@southperthrouleurs.com.au.
SPR Family Day Lunch — Celebrate the Spanish La Vuelta, last of three grand cycling tours in Europe with a Paella lunch at Como Bowling Club.
You may even want to bring Dad as this is also Father's Day 🙂
When: Sunday 4 September, 12.00pm – 3pm
Where: Como Bowling Club
In recognition of the support families provide so members can get out and cycle, the Club is hosting a family day lunch. To make it a little bit special with a cycling theme, what better way than with Paella, a traditional Spanish dish to coincide with La Vuelta. As the calendar is crowded during the grand tour the date has landed on Father's Day. So what a great way to celebrate – all friends and family welcome and SAVE THE DATE.
Tickets and all the details in the SPR shop here.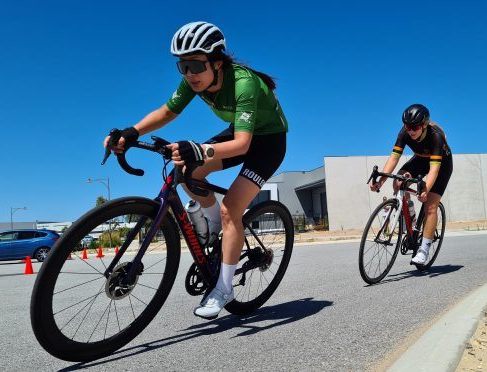 Racing this weekend – If you want to race, or get in on the action watching others race, read on.
1. [CANCELLED] WCMCC Herne Hill Graded Scratch Road Race
2. WA Cyclocross Numbat Cup Five
3. 97th Collie to Donnybrook & Return Cycling Classic (not this weekend but get your entries in!)
From the Ride Coordinator — I've just come back from a very sunny Europe to a harsh reminder that it's a cold wet winter in Perth, with a high likelihood of rain again on Saturday and Sunday morning! We'll throw in a couple of Zwift rides for good measure, just so that those that want to can still ride with friends on both days, albeit virtually. I've opened up the rides so that anyone with the link can join the ride.
While away I was lucky enough to watch the last stage of the Tour de France on the Champs Élysées and had to marvel at the way the men and women were able to manage their positions in a peloton while pumping out 1000+ Watts in the leadup to the sprint. It reminded me that we're sometimes not quite as disciplined when white-line fever strikes, as we wind up on Mounts Bay Rd, or Riverside Drive in our final dash towards coffee. It's great to practice sprinting for those that want to, but whatever happens, keep to the left lane of the road. The cars use the right lane, and they don't always take kindly to cyclists straying into their space. It's less about what we're allowed to do, and more about staying safe, and doing what we can to ensure we maintain a good relationship with motorists who don't cycle. Go for the points, but keep left, take care and stay safe, especially when it's wet!
Saturday 6th August
Sunday 7th August
Monday 8th August
Tuesday 9th August
Wednesday 10th August
Thursday 11th August
Friday 12th August