The recent Canteen ride from Bassendean to Busselton ranged from 300km to 400km with or without hills over 2.5 days offering a goldilocks ride for all. In the slower levels the roll through sometimes involved a five-minute chat with each person as they rolled by so you got to know all the members of your group – not an option in the faster groups!
The huge support of so many volunteers for the whole event such as 15 support vehicles, trucks, trailers, cooks, organisers and a masseur to name a few, as well as Rotary and Lions Clubs in the country towns to provide meals really takes this event to a totally different level you rarely get to experience.
All participants discover a new perspective when they hear about what young cancer patients and their families go through – it truly is an immersive and uplifting experience.
The 11 members of the SPR team raised over $13,000 to help support CanTeen!
The CanTeen organisers did a fantastic job with their COIVD plans to keep it a safe event including their Covid Man (picture above 😎) to keep the message front and centre.
Of course the Club too has been following the government advice on COVID for community sport and wants to reinforce the need to not attend an event or ride if you are not feeling well; alternatively, returning a negative RAT based on the instructions prior to attending. Don't forget a mask and your phone for proof of vaccination if you plan on a coffee afterwards as per the government requirements for hospitality venues.
Jim Flynn and the Indian Pacific Wheel Ride 2022 – Last week we saw off Jim on his IndiPac 2022 adventure (see last week's blog).
See below for the progress update as at now and see his latest Facebook post here.
AGM Reminder – Don't forget that voting is open until tomorrow evening for the SPR Annual General Meeting 2022. Check your email or voting link here.
The in-person section of the meeting will be held on Saturday 26 March 2022 at 9:00am at DOME Westralia Plaza (5/167 St Georges Terrace, Perth) following the usual Saturday ride.
The Committee requests that all attendees of the meeting vote using this form wherever possible. Please contact the club via the email address admin@southperthrouleurs.com.au if you have any problems voting.
New Race Day Gear – the SPR Kit Subcommittee and Mayeur are proud to announce the SPR Race Day Hoodie and SPR Race Day Tee for your wearing pleasure.
You know you want one.
Unlike our normal kit orders, these items may be ordered any time and will be delivered direct to your door. Order on the Mayeur SPR shop here.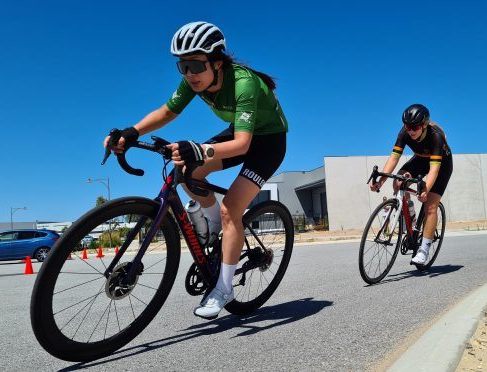 Criterium racing this weekend – If you want to race, or get in on the action watching others race, read on.
1. PDCC Summer Criterium Series 2021-22 #9
From the Ride Coordinator – So it looks like this weekend may be our first "inclement weather" forecast for the year on our Saturday main ride with an ex tropical cyclone weaving its way down the west coast It's a good time to remind people to look over your bike for things like tyre and brake wear and to make sure that everything is in good working order. Which is an expectation on all riders who ride with SPR. The consequences of a poorly maintained bike might not just be an early finish to your ride but could impact others as well. As we move towards the wetter months, now is the time to recheck everything so you are prepared for the more slippery conditions across May into September.
Speaking of getting prepared for the winter months, our Sunday Short Hills and Long Hills ride will revert back to a 7am start time from Sunday 3rd of April. So to be clear that is NOT this Sunday it is the following Sunday. This will mean that from that first Sunday in April ALL Sunday rides will depart Coode Street at 7am after the coffee ride and the Social Short Hills ride moved to the 7am start time a few weeks back.
Also worth highlighting is that over the coming months there will be significant road works being done around Bayswater but also along Welshpool road as the bridging for the Metronet Station near Whatley and the same on the Leach Highway over Welshpool take place. You can bet there will be disruptions and diversions taking place on these busy roads and many of our ride routes also traverse these intersections. Whilst we will do our best to minimize interactions/routes to avoid these works, the ones on Leach Hwy will be the most problematic for the Sunday Hills riders so we would encourage all regular Sunday Hills riders to avail themselves of information each weekend on what's going on as it is likely to constantly change and it can't be fixed by chopping and changing our ride routes online every week. So please keep an eye out for changes on the main roads website and let each other know when you find out.
Saturday 26th March
Sunday 27th March
Monday 28th March
Tuesday 29th March
Wednesday 30th March
Thursday 31st March
Friday 1st April